While piece-meal investments don't benefit from the same virtuous circle created by an investment in seamless omnichannel experiences, they still provide an excellent return on investment in addition to working better overall in your business's big picture strategy.
To help you prioritize, we created our Digital Marketing Hierarchy of Needs to help you determine what your next step should be.
In summary, staying one step of your competitors is key to remaining the place your customers want to shop. In situations where consumers experience interacting with your company online is far superior then their experience with your competitors, staying on top of where your industry falls on the pyramid and getting ahead of the curve can result in an increase in the number of qualified leads your business generates each month.
Below, we cover each of the levels of our Digital Marketing Hierarchy from the bottom to the top.
Feel free to jump ahead depending on where your business is already at.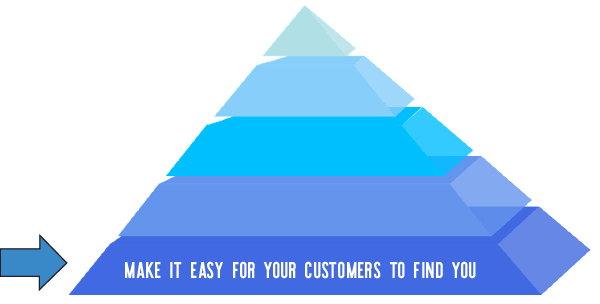 Step 1: Make it Easy for your Customers to find you
Can your customers find your business easily online? If not, chances are you're missing opportunities.
As mobile and local search continue to grow in popularity (10x since 2015!), consumers are spending less time researching and researching fewer brands before making a purchase decision. If you're not there when they're looking, they'll keep moving!
Top 6 Ways to make it easy for people to find your business online: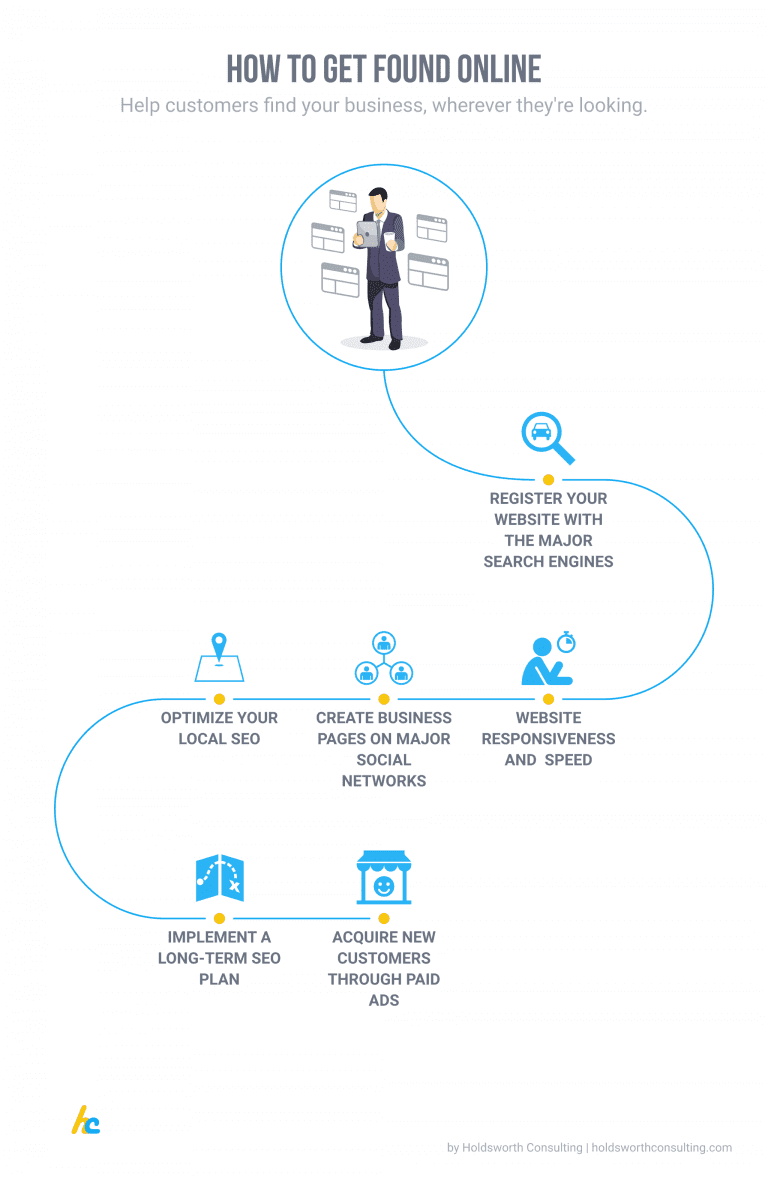 1. Be online and registered with major Search Engines
Having a website that is able to be found on the major search engines is critical to staying in business. According to a 2015 study google did on Consumer Behavior, 10% of respondents first heard of the business they made a purchase from online, and 60% of respondents went online before buying to do research.
Most businesses are past this point at this stage, and if you're not- now's the time, but it's worth double checking you've registered and verified your company with Google My Business, and Bing for Business.
You'll also want to connect and verify ownership of google webmaster and bing webmaster console, where you're able to confirm your site is being indexed properly, submit sitemaps, and identify errors potentially affecting your search rankings.
2. Make your website fast and mobile-responsive
Both consumers and search engines will thank you. Consumers don't like to wait. Because of that simple fact, optimizing your website load speed can dramatically improve your search result rankings. Although performance varies from website to website, typically a load time of 2.5 seconds or less is considered good
When your load time exceeds 4 seconds, Google estimates you're losing 10% of your traffic due to the visitors' impatience. Google doesn't reward websites that are fast and mobile-responsive, instead, they penalize those that aren't.
Making it easy to find your business quickly and on mobile devices will positively impact the results of all your digital marketing efforts.
By registering with the major search engines and passing their minimum requirements in terms of speed and responsiveness, you'll begin to rank for "branded searches", or searches for your company name, which further improves your search engine result rankings.
In addition to making it easy to find you, appearing high on the direct search results for your business signals the legitimacy of your business and prevents accidental discovery of your competitors. When your business appears high in the results for direct searches, it signals to the searcher that Google knows, recognizes, and is confident in recommending your business for their search.
Alternatively, if you appear low in the search results, you run the risk of creating the perception that Google recommends your competitors products or services over yours.
If your business shares a name with a highly competitive industry, most people will search "your business + your industry", "your business + the service", and "your business + location".
If you can't rank for the shortest keywords related to your company's name, make sure you're ranking for these instead!
3. Create your business pages on all major social networks.
Google may well be the only search engine of significant value for most companies, but it is not the only place consumers are searching.
Most people know the second largest search engine is Bing, however, the website with the second largest number of searches in 2017 (second to Google), was actually YouTube!
Social Search is a common part of the research process for digitally-savvy buyers, making it easy to find your business and the information they need to make a decision is essential in maximizing your lead generation.
4. Optimize your Local SEO
While it's well-known that mobile search and local search clicks have been consistently growing since they've been introduced, some companies are unaware of the ever-increasing importance of local SEO.
According to the 2018 Google Ads conference, "near me" searches grew nearly 10x from 2015 to 2017 as consumers increasingly search for all types of products and services "near me" due to the added convenience close proximity provides.
According to Google's 2015 study on Consumer Behavior Trends, consumers who purchased products through local search spent less time researching and compared brands overall, meaning ranking well in local results can have a dramatic impact on your bottom line.
Have you noticed the Local Graph now takes up the entire space "above the fold" (or "above the scroll") on mobile devices? If you haven't made it easy to find your business in Google's Local Listing Results, we can help! Check out our Local SEO Optimization Project.
5. Implement a Long-Term SEO Plan
By identifying what keywords your potential customers use when they are expressing intent to make a purchase, you can begin to craft a long-term SEO strategy.
Your long-term SEO strategy should be comprised of three parts: a content marketing strategy, a content-promotion strategy, and a link-building strategy.
The goal is to find the intersection between what content your audience would find meaningful to their experience with your company and the content that will drive new customers to your business.
Promoting and distributing the content you create drives increased traffic to your website, further boosting your site in the rankings. Building links based on the content increases your sites authority and the liklihood you'll be recommended by the search engine.
While no SEO results happen overnight (except when Google changes their algorithm), understanding what keyword opportunities express purchase intent, deliver the highest amount of qualified traffic, and face the lowest amount of competition is crucial in developing an effective SEO strategy.
6. Acquire new audiences through paid ads
Despite the most herculean SEO efforts, in most cases, it still takes anywhere from 3-6 months to see meaningful results due to widespread competition in the majority of industries online. Additionally, there may be some keywords that don't make sense for your business to rank for, but still indicate purchase intent from potential customers.
In those situations, paid advertisements can be an excellent bridge to connect with new customers by making it easy for them to first learn about your solution to their needs.
Google recently updated their my account controls to allow all Google users to completely control their ad experiences. So far, Google reports they've seen the majority of users who've taken advantage of the feature opt for more personalized ads, instead of no personalization at all.
With the announcement of the new Google Ad platform in July 2018, companies will have even more opportunities to deliver personalized and meaningful advertisements directly to their target audience.
According to Google's 2017 data, 91% of consumers said they had purchased a product or service based on an online ad that they found relevant to them.
Is your company benefiting from the additional free features the new Google Ads provides to create targeted and meaningful experiences? If you're not, we can help! Check out our Pay Per Click Ads management service.
---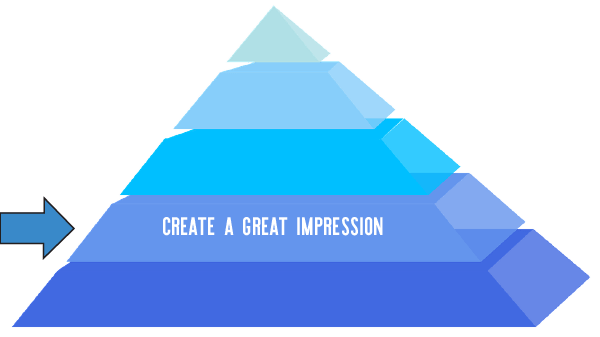 Step 2: Create a Great Impression
When your customer's express intent and are in the final stages of decision making regarding their purchase, is the experience your company has created online working for you or against you?
Most consumers spend between days and weeks researching a product before they purchase, with the majority conducting research online. Make sure they're left with an excellent impression every step of the way and your conversion and advocacy rates will improve dramatically.
Top 5 Ways to create a great impression with prospects and customers online: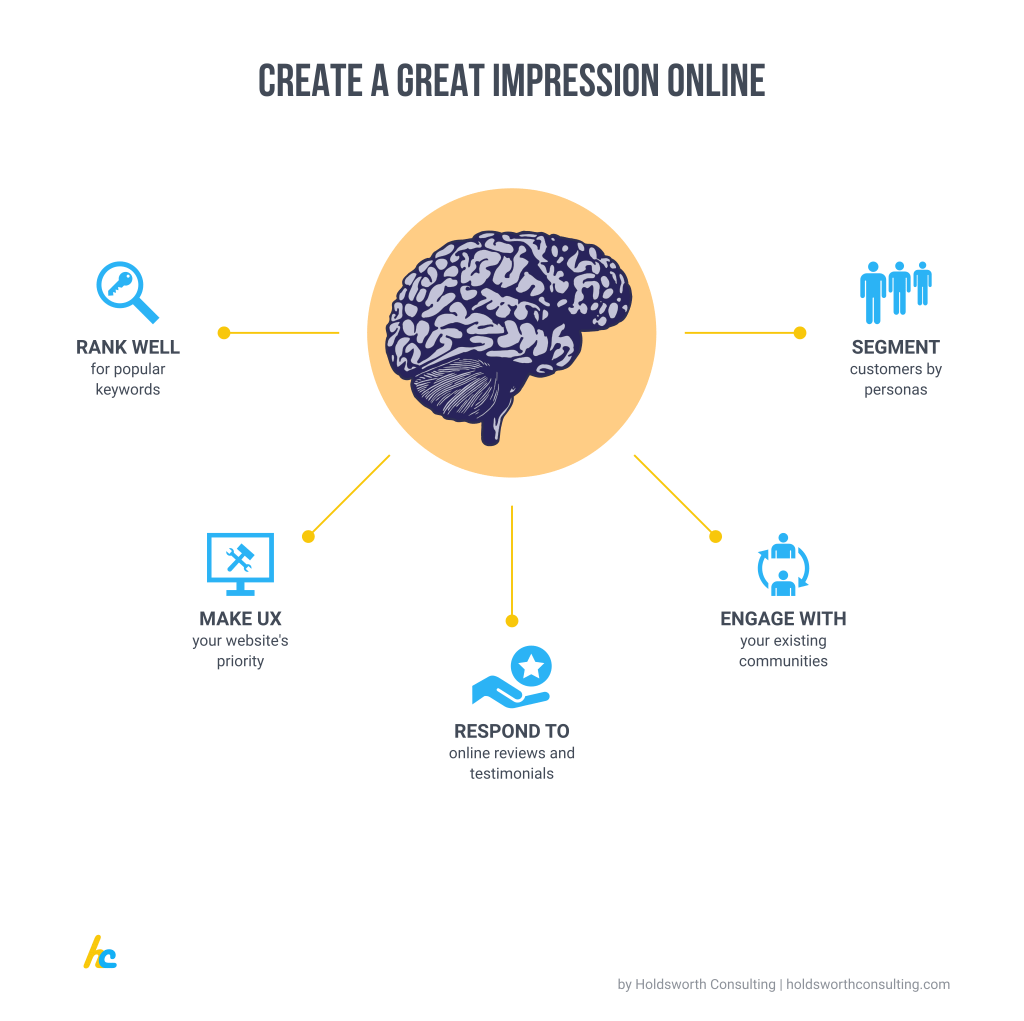 1. Rank well for popular short-tail keywords
Ranking well for popular short-tail terms in your industry is extremely important in conveying both the authority and legitimacy of your brand. Typically after most consumers become interested in a product or service, they will look for competitors by searching for the industry in general.
Consistently appearing in, and ranking well in, both organic and local searches, create the impression that Google recognizes your company as one of the best solutions for their needs.
2. Create a great user experience on your website
User experience is the collection of experiences any individual user may have when interacting with your website. When your company is able to create an exceptional user experience on your website, it signals to your customer or prospect that they will have a good experience interacting with your company in general, which increases the likelihood they'll continue purchasing your products or services.
Furthermore, a good user experience can have dramatic indirect effects on your SEO by positively affecting the behavior of your website visitors. When people like to interact with your website, they'll visit more pages, spend more time, and return more frequently.
These are some of the main signals Google looks for when determining if they have served the right page to the user. When people signal to Google they've found the right page for their search, Google ranks you high in the results for that search term.
Without any other SEO work, improvements to your website's user experience can have a major impact on your search rankings while leaving the impression that your company values creating a great customer experience in general
3. Optimize your conversion funnel
If customers find your company's offerings simple to understand, easy to take advantage of, transparent, and trustworthy, they are much more likely to convert into a customer. From your paid ads to your lead nurturing emails, your customers should never ask themselves, "Why am I seeing this."
Creating a seamless journey from the moment they first interact with your company to the point at which they become a customer demonstrates an understanding of their needs and signals the ability to provide the solution to their problems.
4. Manage your Reviews and Testimonials
Consumers use reviews and testimonials in a very similar fashion to referrals, with the primary difference being they are always there and ready! By understanding what the majority of other people thought about your product or service, as well as what the people most similar to themselves thought, they're able to come to a decision quicker about the legitimacy of your brand.
In addition to actively facilitating positive reviews and testimonials, it has never been more important for brands to engage publically with their reviews. If someone demonstrates the effort to publically promote your company, showing gratitude and appreciate publically goes a long way. On the other hand, when faced with negative reviews it presents an opportunity for your company to demonstrate an understanding of and control over whatever the situation may be.
Never reach out to negative reviewers directly or ask them to remove or modify their original review. Rarely will you win back the original reviewer. Instead, use these opportunities to create a great impression for the next prospect or customer looking into what others had to say about your company.
With reviews there are a few options to consider. Is your business being reviewed on one platform naturally more than the others? Should you host a review system directly on your own website? Our advice is to be where your customers are!
If you're interested in learning more about our turn-key solution for keeping your online reputation working for your brand, check out our Social Response & Review Management service.
5. Engage your Social Media Community
Avoiding making your customers feel like their purchase was purely transactional is crucial in maximizing the advocacy, or positive word-of-mouth marketing, conducted on your business's behalf.
Brands that post content designed to educate, entertain, or otherwise educate their user base demonstrate the purpose of your company's existence: to solve a problem for your customers.
Additionally, connecting with your customers post-purchase to proactively resolve any issues, questions, or concerns creates the impression that your company genuinely cares about providing great customer service.
Engaging social communities, whether or not users have purchased your products or services, is a key signal that many consumers look for during product research and a major factor in their decision to spend their time advocating for your brand.
6. Utilize Smart Segmentation Strategies
Whether they find you through organic search or a paid advertisement, consumers increasingly expect experiences personalized to their needs and preferences. While certain data use practices have certainly had some bad press this year, most consumers still opt-in to their data being used to deliver personalized and meaningful experiences- as long as they are assured they are in control and that the data won't be used against their wishes!
Companies can take advantage of this trend by using segmentation to create meaningful experiences across a variety of customer groups. Create customer personas by categorizing similar customers into groups.
---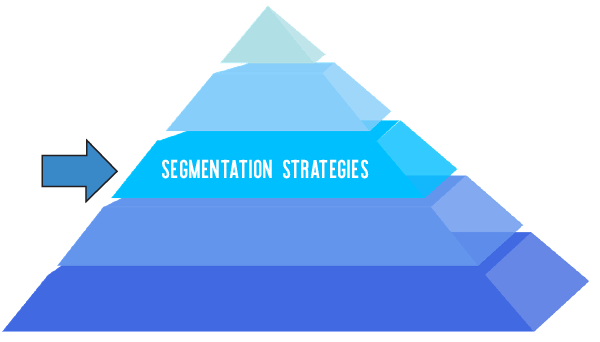 Step 3: Utilize Smart Segmentation Strategies
Create customer personas based on motivations, goals, and behavior. The number of customer personas your business will create is based on the number of significantly unique groups among your customers.
Create content strategically to address common questions and obstacles at each stage of the customer journey, for each of your customer personas.
Top 4 Ways to implement smart segmentation strategies for your business online: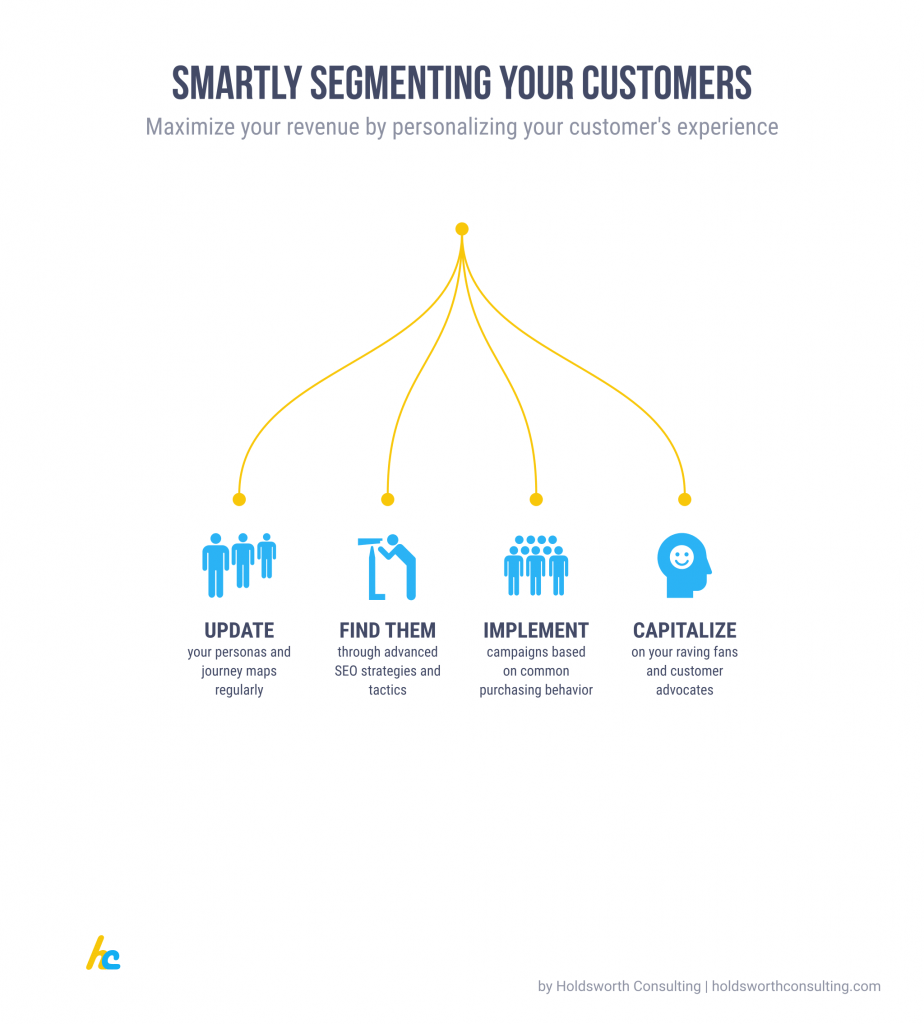 1. Personas and Journey Management
Most companies find the most cost-effective way to deliver personalized experiences is through the development of Customer Personas. A customer persona is a fictional customer that represents a large number of your customers who have more similarities to each other than differences.
A company has as many personas as there are significant differences among potential groups, with significant meaning the company is able to make a decision based off that unique characteristic to deliver a better experience to the customer.
A Customer Journey is the collection of all experiences, whether online or offline, a customer has from the moment they discover your product to the moment they forget about you. Without understanding your customer persona's, as well as the unique characteristics each group experiences as they progress through their customer journey, most marketing efforts will fall short of the mark of providing content that is actually of value to the end consumer.
By understanding the experience each of your customer personas has at each stage of the customer journey, you can identify the content marketing opportunities that will make the biggest impact on your bottom line.
2. Advanced SEO: Reach customers before they express purchase intent
While it's beneficial to appear in organic search results when your potential customers are doing preliminary research prior to recognizing their own need, being there when they recognize that need is absolutely essential.
Any SEO strategy will target these basic "transactional" searches due to their high conversion rates, however these keywords often face stiff competition.
During their research phase, many of your potential customers will search for comparisons, reviews, and other sources of information regarding how your product worked for others. This provides additional opportunities to demonstrate why your products and service are different, and better, than your competitors.
By targeting searches for more information in addition to transactional searches, you can keep your company's offerings top of mind throughout the buying process.
Business's can target informational searches in a variety of ways, including submitting guest blogs, updated information to review sites, partnering with blogging influencers, or even creating their own "third-party source" blog.
Use your customer personas to identify where and when you may be able to add value to your customer's experience.
4. Advocacy Campaigns: Customer-Centric Content Strategy
One of the most important segments you should identify and capitalize on is your Custom Advocates. These customers are highly motivated to refer your products or services, given the opportunity and the ease of doing so!
You can maximize the advocacy your business generates online by designing content intended to be engaged with by your customers. By understanding what type of content would create a relevant and meaningful experience to them, you'll be able to stay top of mind. In best cases, they may even share your content with their own network, which depending on the quality of their social network, is an extremely effective way of being discovered!
---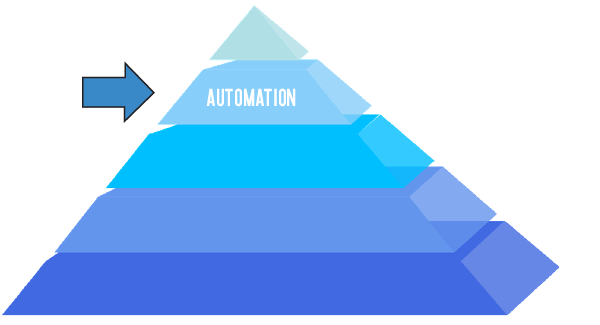 Step 4: Take advantage of automation
Automation offers your business efficiency and the ability to scale your efforts extremely quickly. From improved accuracy to reduced labor costs, automation is designed to make your business operate more effectively.
Top 3 Ways to Implement Automation in your Small Business
1. Sales Chatbot
No matter what question is preventing your prospect from taking their next steps, a sales chatbot can always be there when they're ready to get an answer
After teaching your bot your preferred sales strategies and messaging your bot will properly execute every time, providing detailed feedback about each and every interaction as well as summary insights.
When your prospect is ready for your live sales team to step in they'll be more informed because of interactions with your chatbot, improving your qualified leads-to-total leads ratio as well as saving your sales team valuable time.
2. Marketing Automation: Lead Nurturing, Onboarding & Upselling
Once a visitor expresses interest and becomes a lead, most companies like to "nurture" them through a series of messages based on either a time-delay or on actions the user previously took (such as clicking a link in your email).
While lead nurturing campaigns used to only involve email, many companies are taking advantage of new digital channels -such as mobile notifications, browser push notifications, direct messages in Facebook messenger, and text messaging- to maximize their conversion of inbound leads.
When personalized and meaningful, these notifications can help users remember and access the information they need to move forward, such as what time their phone call is with your sales rep!
3. Support Chatbots
Available 24/7 to provide support when your customers need it, Support-oriented chatbots greatly enhance the level of service your company is able to provide to your customers.
From reset passwords to frequently asked questions, support chatbots reduce resolution time for your customers and lets your live customer service team focus on more complex issues by greatly reducing the number of inbound requests.
---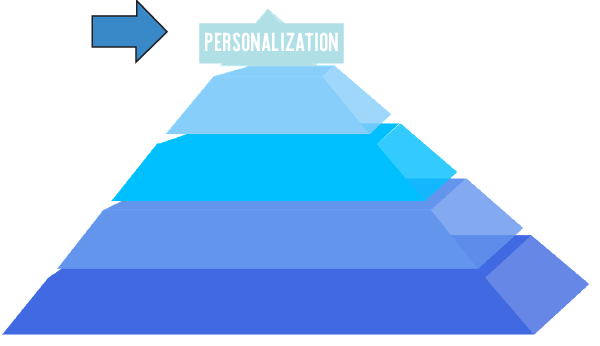 Step 5: Implement Individual Personalization
Personalization is the key to converting online traffic into sales and is the pinnacle of digital marketing. Creating relative, one-on-one experiences can only be accomplished to the degree of personalization and targeting you can achieve.
Autonomous Digital Marketer
Not yet widely available, some companies have begun to offer AI-powered digital marketing, capable of delivering personalization down to the individual level. This technology constantly tests, iterates, and refines your personas, content design, messaging choices, and ad bidding to maximize the return on your investment.
While this currently only makes sense for large enterprises due to the 6 figure a year price range, the availability of AI technology such as Watson will enable more and more marketing business's to develop their own technology for a fraction of the price.