The short answer is almost unequivocally yes, your business should invest in digital marketing because more and more consumers make purchase decisions and conduct research online. If you're not hosting the conversation about your business, chances are someone else is. While the effectiveness of digital marketing varies based on how your customers learn about and purchase goods from your industry, most companies can reach new qualified leads by being online. In many industries, companies with advanced digital marketing strategies can even win additional business from their competitors.
Looking at consumer data and trends over the past 5 years, the importance of optimizing your online marketing has never been more important. As mobile search and online shopping volume continue to increase, the opportunities online will continue to grow as well.
Using Google's Consumer Barometer, we put together the following data and insights to give you the facts you need to know about how online channels are affecting all businesses. The data included reflects the 2014/2015 Google's Consumer Barometer Survey and Google's 2017 Connected Consumer survey, so it is important to note that many of the figures represented for online and digital channels have grown since this data was collected.
Top 5 Insights continuing in 2020
10% of consumers will only hear about your business if you have an established online presence.
Regardless of how they first heard of you, 50% of consumers go online to research your company, products, or services before they move forward. 20% online research online.
Mobile optimization is essential to your online marketing strategy, 11% of consumers only used a smartphone for their research. 30% of those smartphone users immediately went to a competitor if they experienced an issue on your mobile website.
Don't underestimate the importance of being first or second in local listings. Traffic from local results is growing while consumers are taking less time and considering fewer brands during research.
Companies can add genuine value to consumers by making online video advertisements that satisfy both the company's branding and promotional goals, as well as the goals of the consumer.
---
Discovery
The top four ways consumers found out about the product or service they purchased includes Previous Experiences (42%), Discussions with other people (11%), Pre-purchase research (16%) and through advertising (10%). Since our efforts focus on digital marketing, we'll focus on the two categories online experiences impact the most, pre-purchase research and through advertising.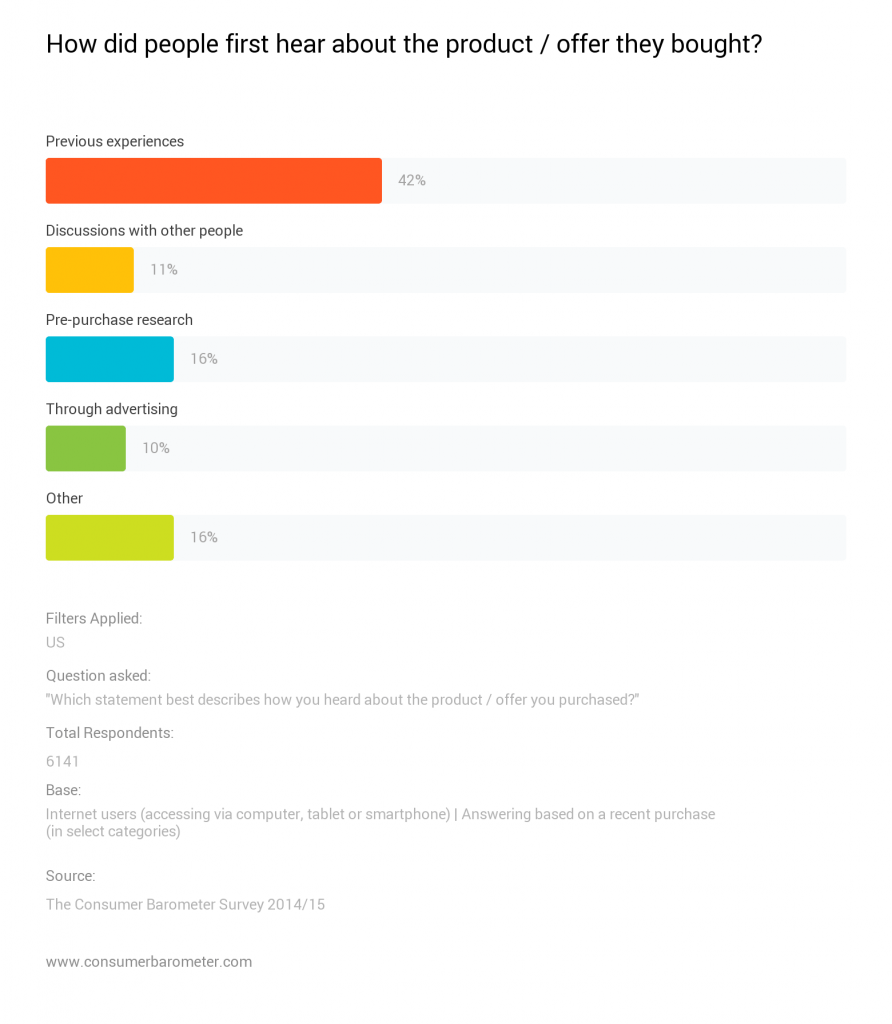 Is online advertising effective?
Consumers first learned about the products they purchased from advertisements online nearly 20% of the time in 2015, the second largest source behind television! On an ROI basis, digital advertising offers a much greater return because it in general costs less and provides the ability to target your ads.
Out of the 10% that heard about the product or service through advertising, nearly 20% (which is equivalent to about 2% of all sales) first heard about the product or service through online advertising.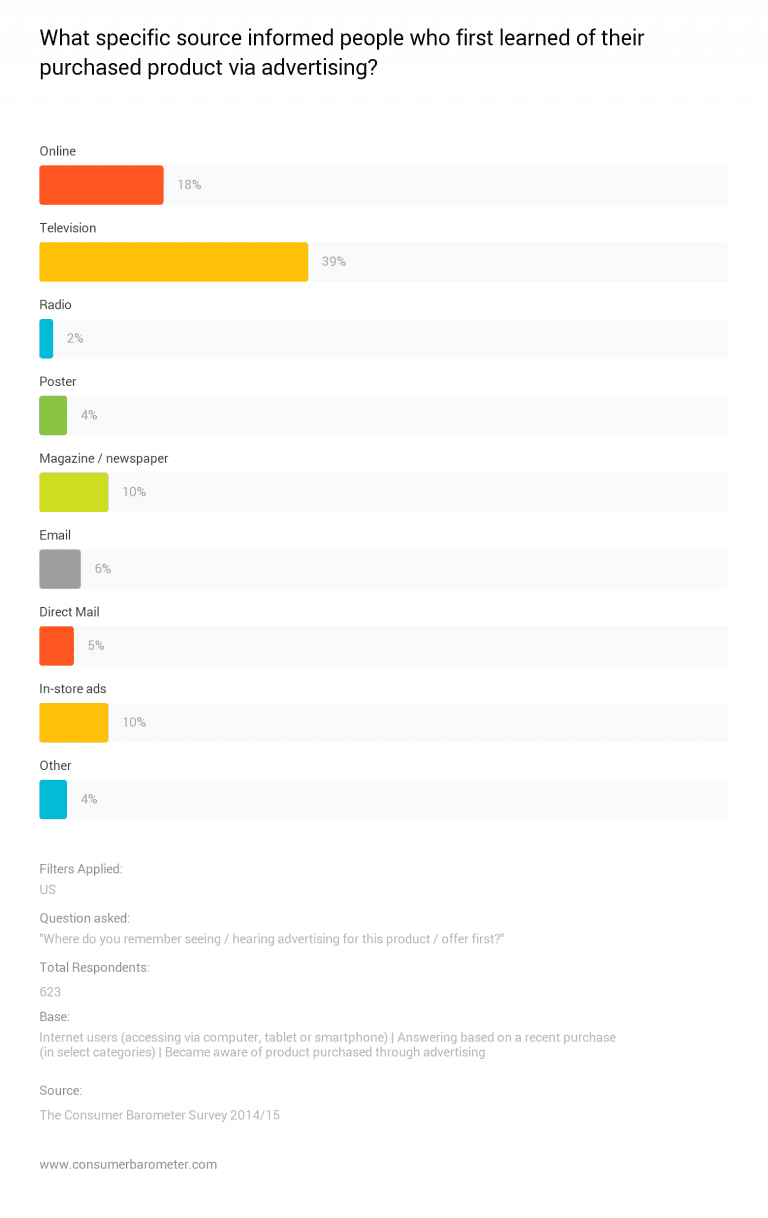 Out of the 16% that learned about the product or service through pre-purchase research, 55% (which is equivalent to about 8% of all sales) found out online through a website or mobile app!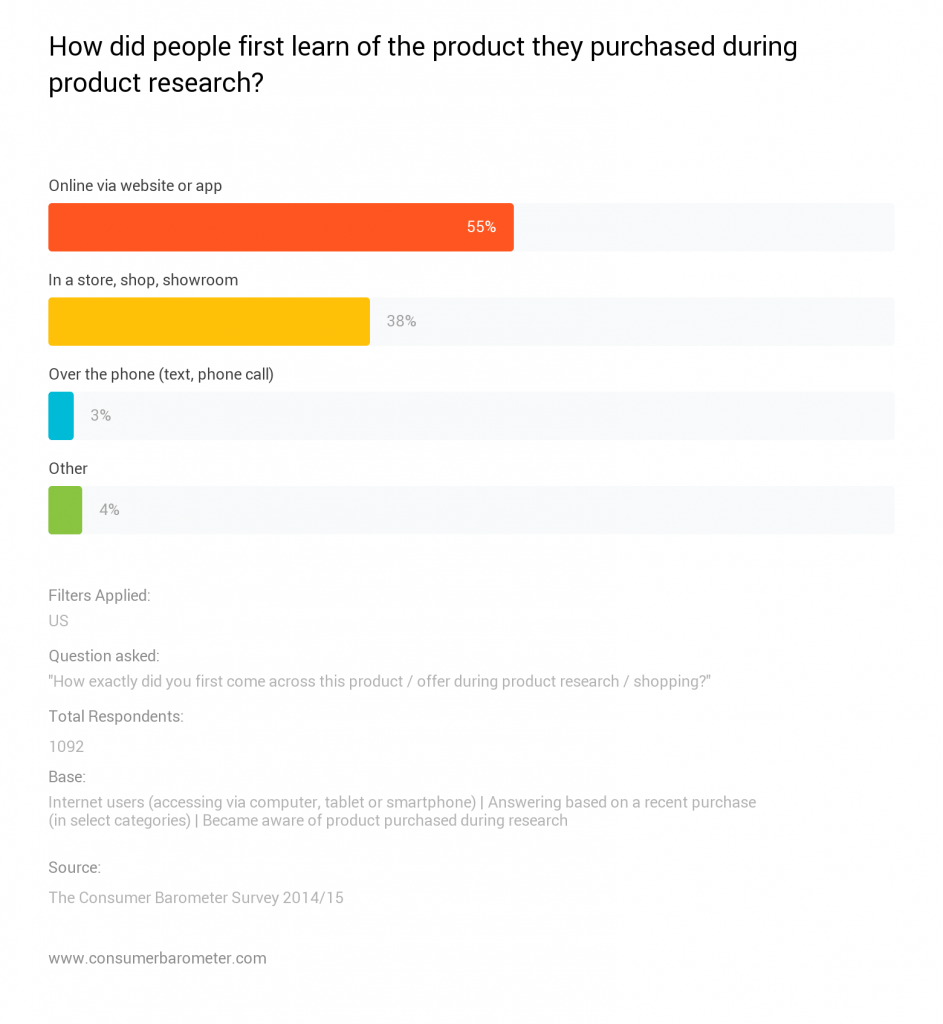 ---
Pre-Purchase Behavior
50% of consumers did some online research, with nearly 20% exclusively doing online research.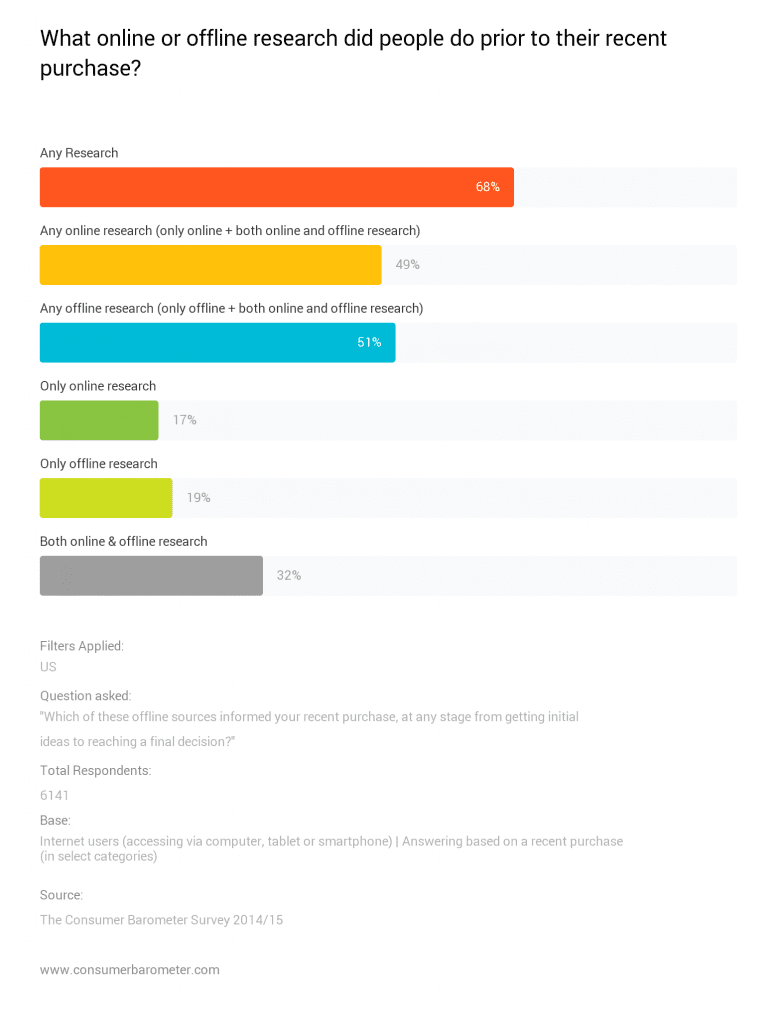 50% of the time they used the internet to compare products, prices, or features.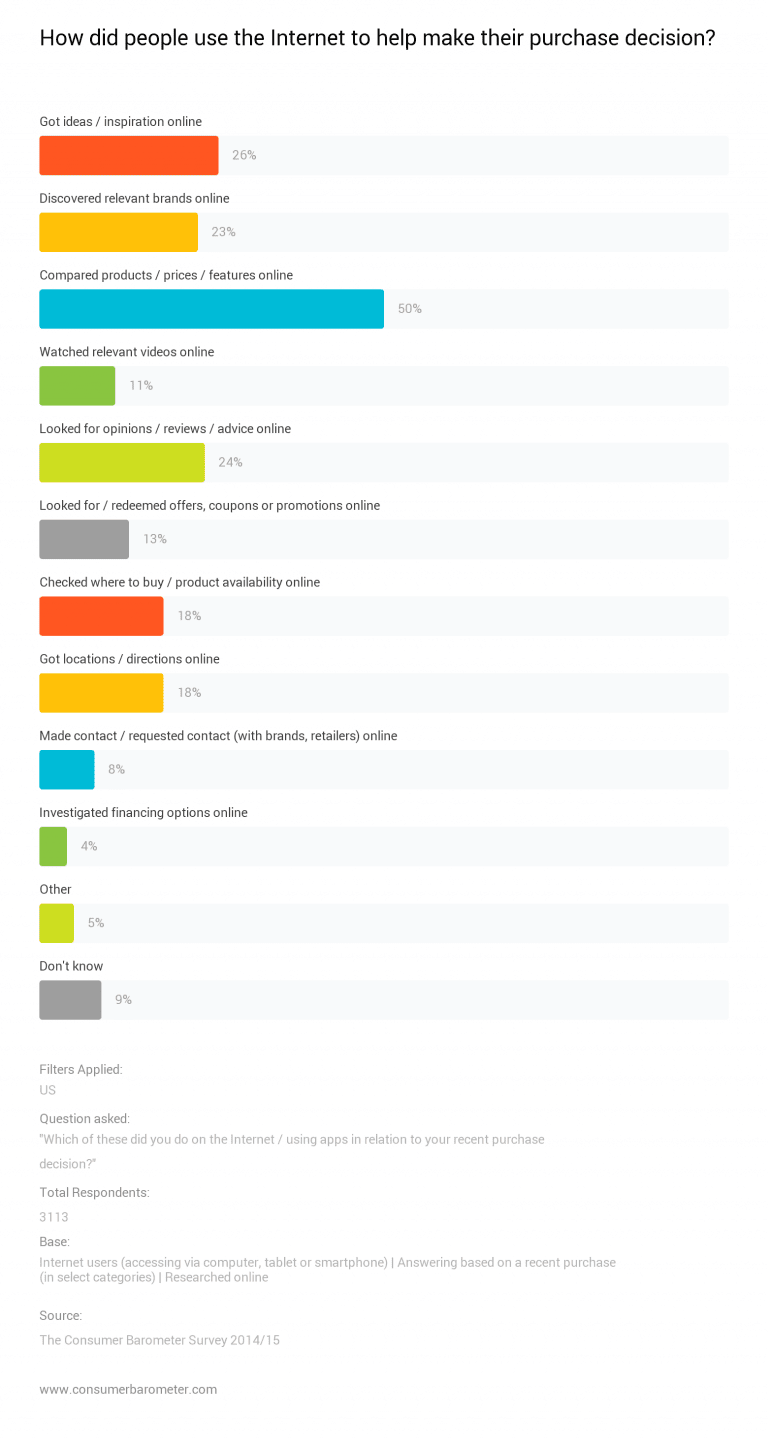 The internet is used during all stages of the pre-purchase process.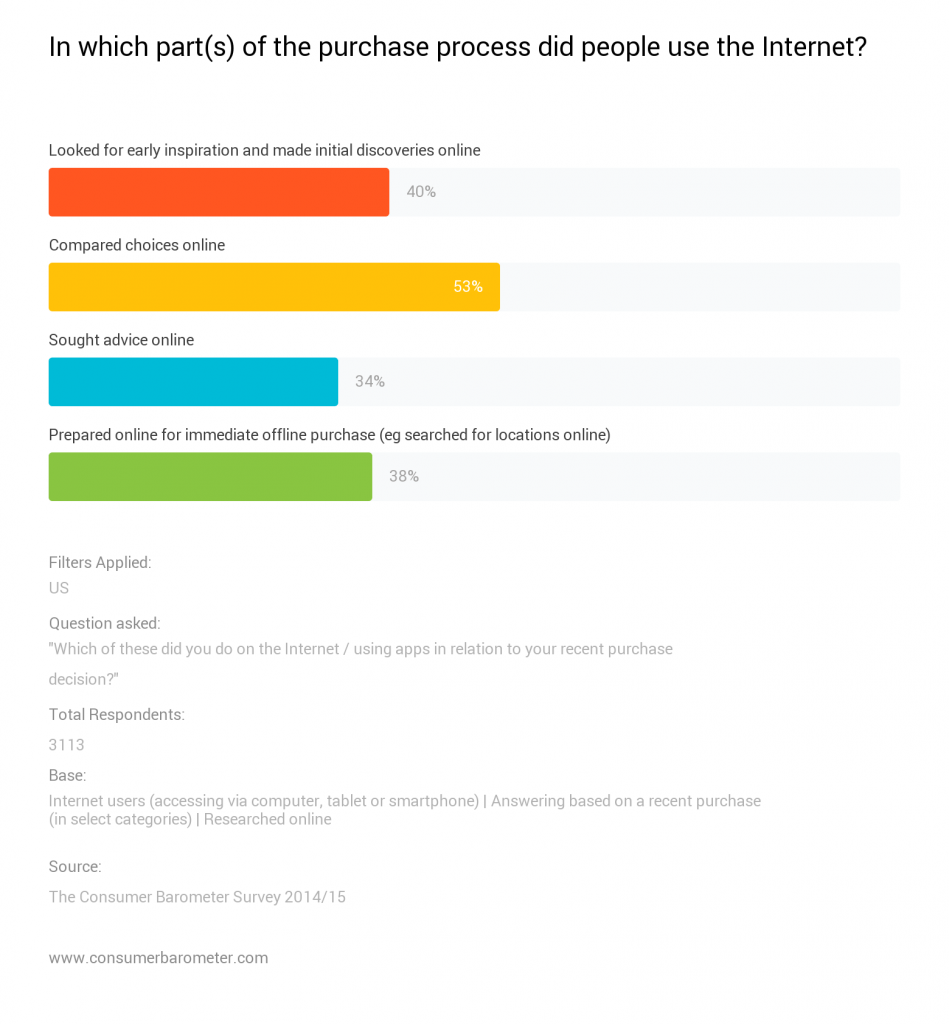 And your customers are looking in numerous places: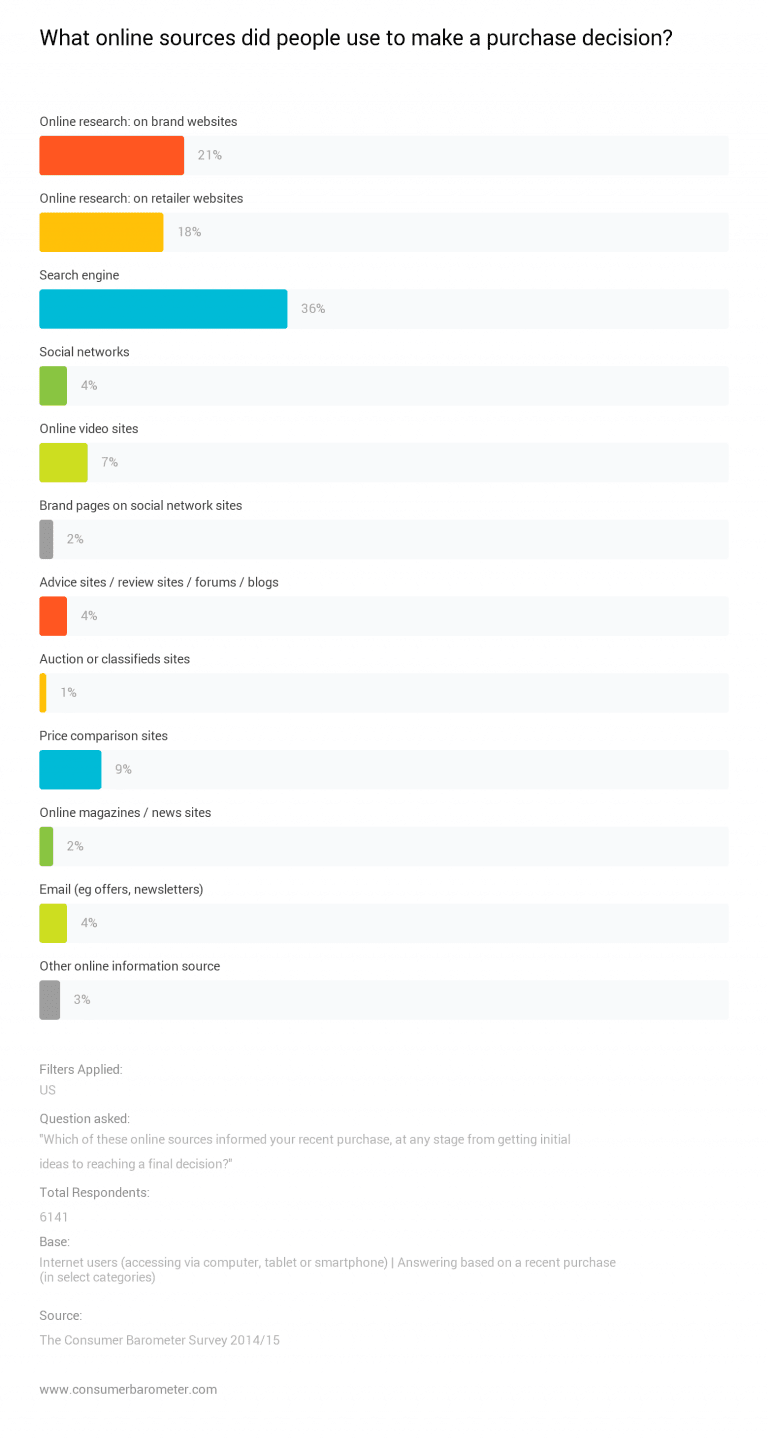 ---
Decision Making Process
53% of consumers spent between a few hours and a few months researching your product before they purchased.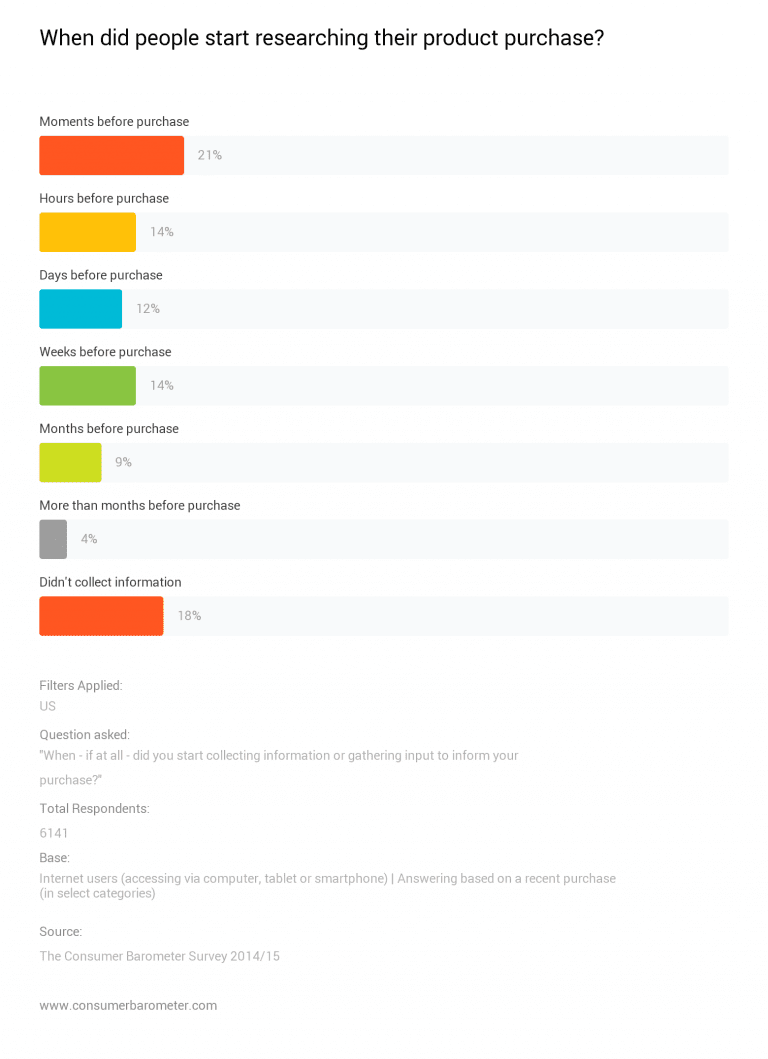 57% consider two brands or less.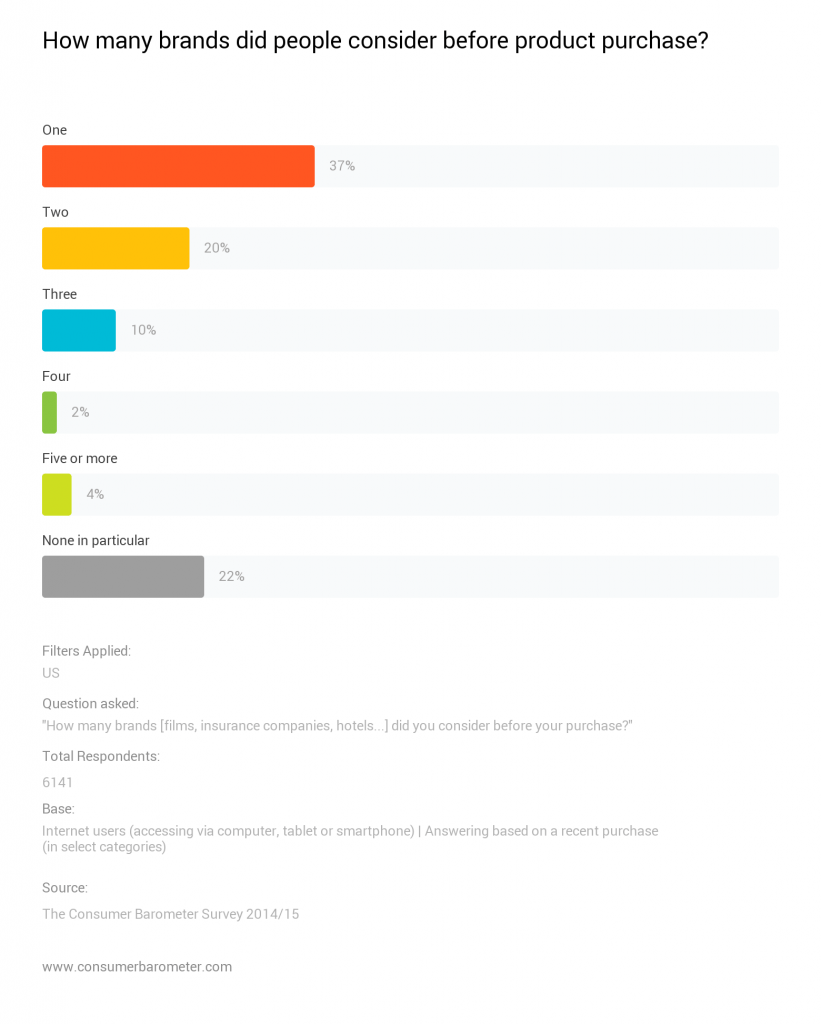 More people are completing the transaction entirely by finalizing their purchase online.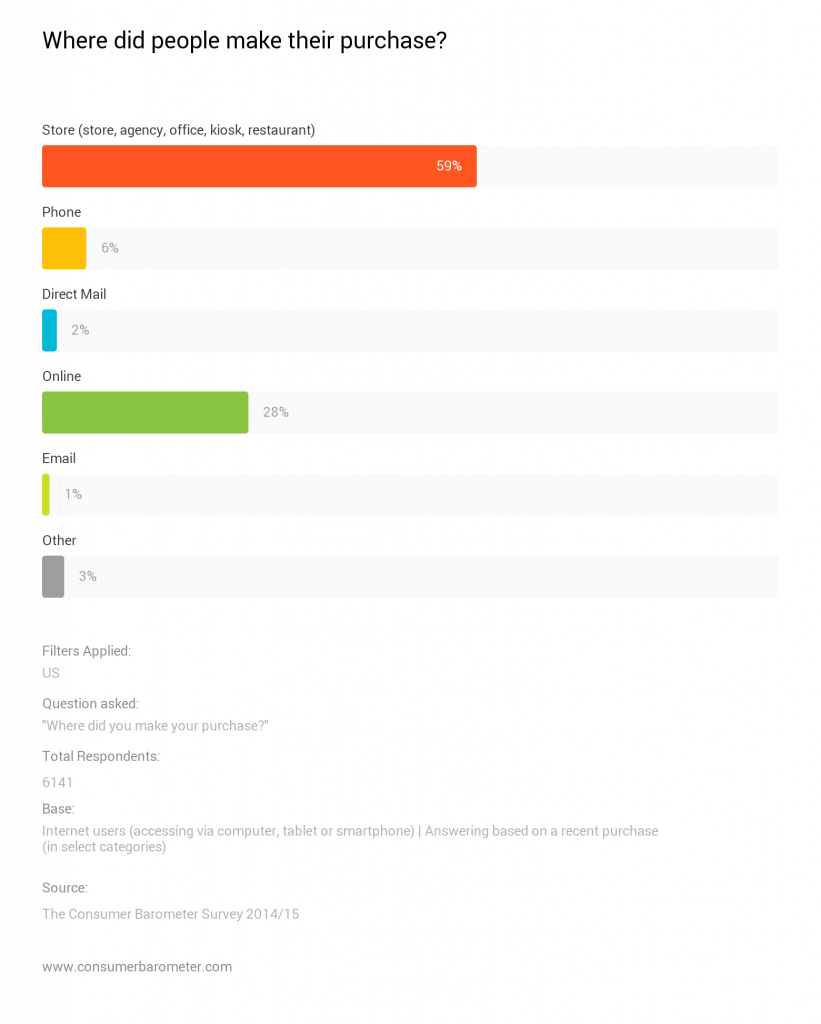 And some are even advocating after their purchase immediately.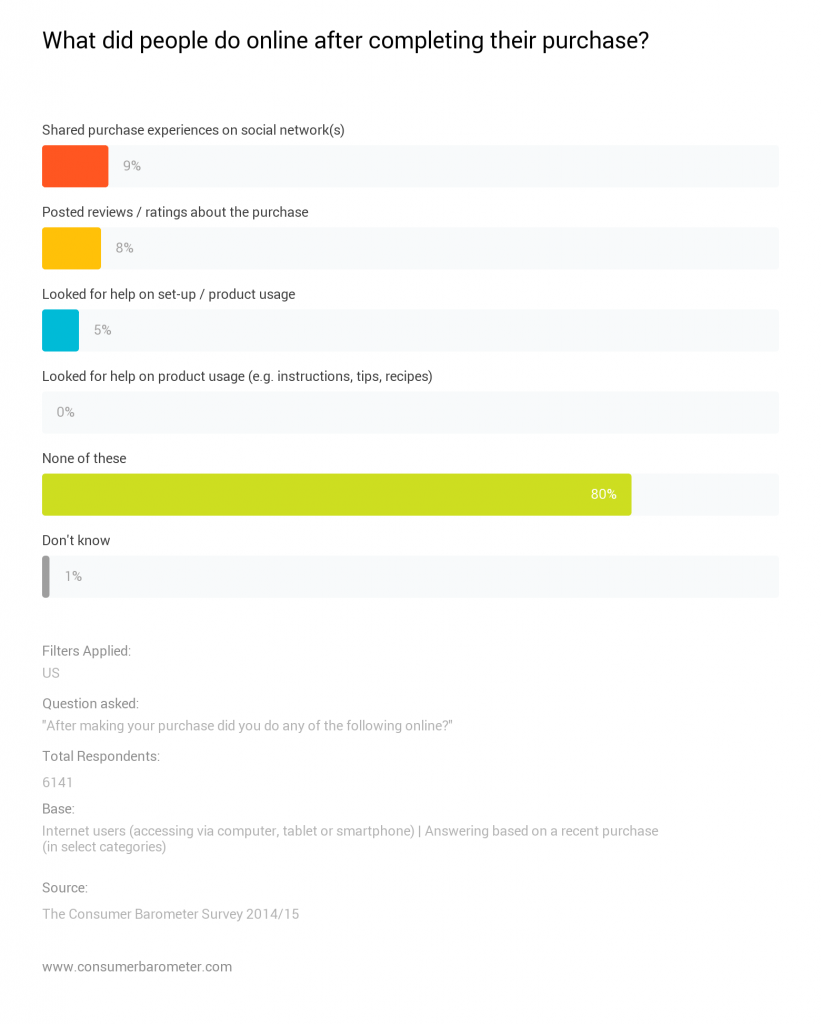 ---
Local Search
Why is local search as important as it's ever been right now?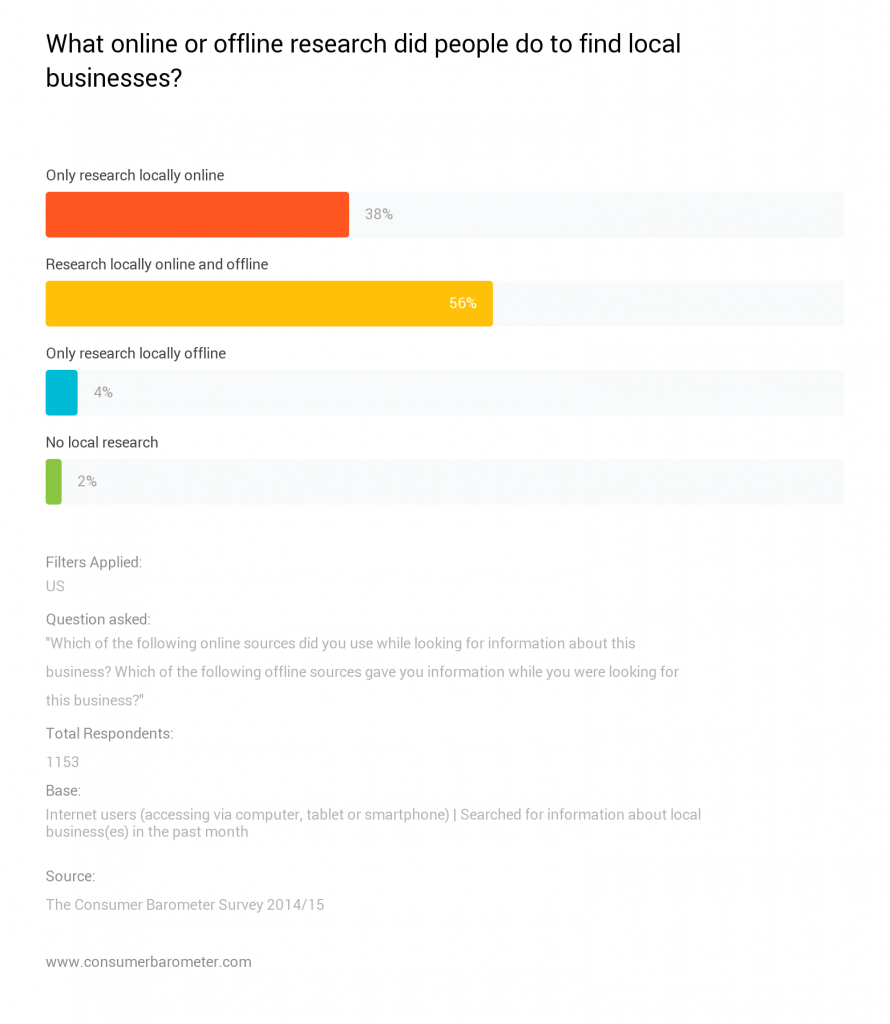 For local businesses, it's even more important to appear in the search results. Only 4% of respondents searched for local businesses strictly offline, while 38% searched strictly online.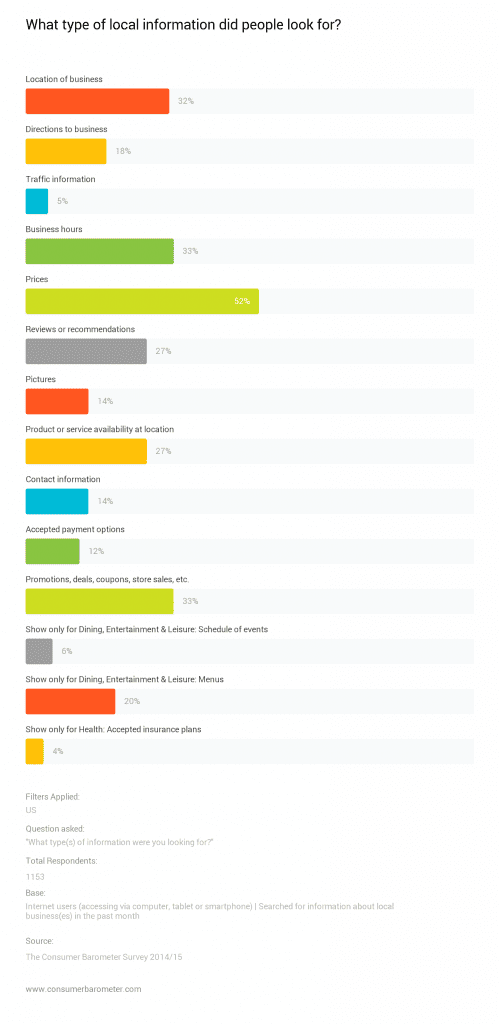 Consumers shopping for local businesses use the internet to research the location or directions (+32%), prices (+2%), reviews (+3%), and promotions (+20%)  at a higher than average rate during their research process.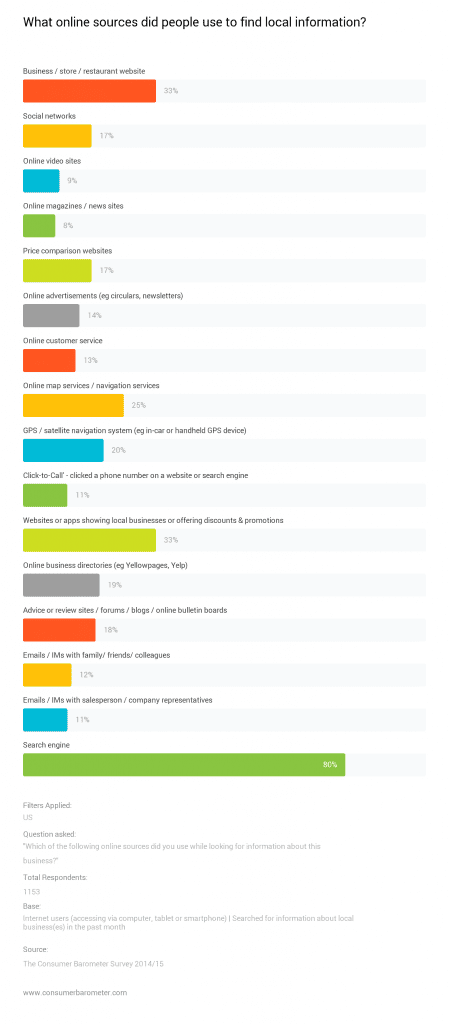 Customers of local businesses use search engines (+44%), the brand website (+12%),  social networks (+13%), and emails (+7%)  to find their information more than any other source and at a higher than average rate. Customers of small businesses additionally perform more research with third parties, with price comparison websites (+8%), online magazines/news sites (+6%),  and review websites (+14%).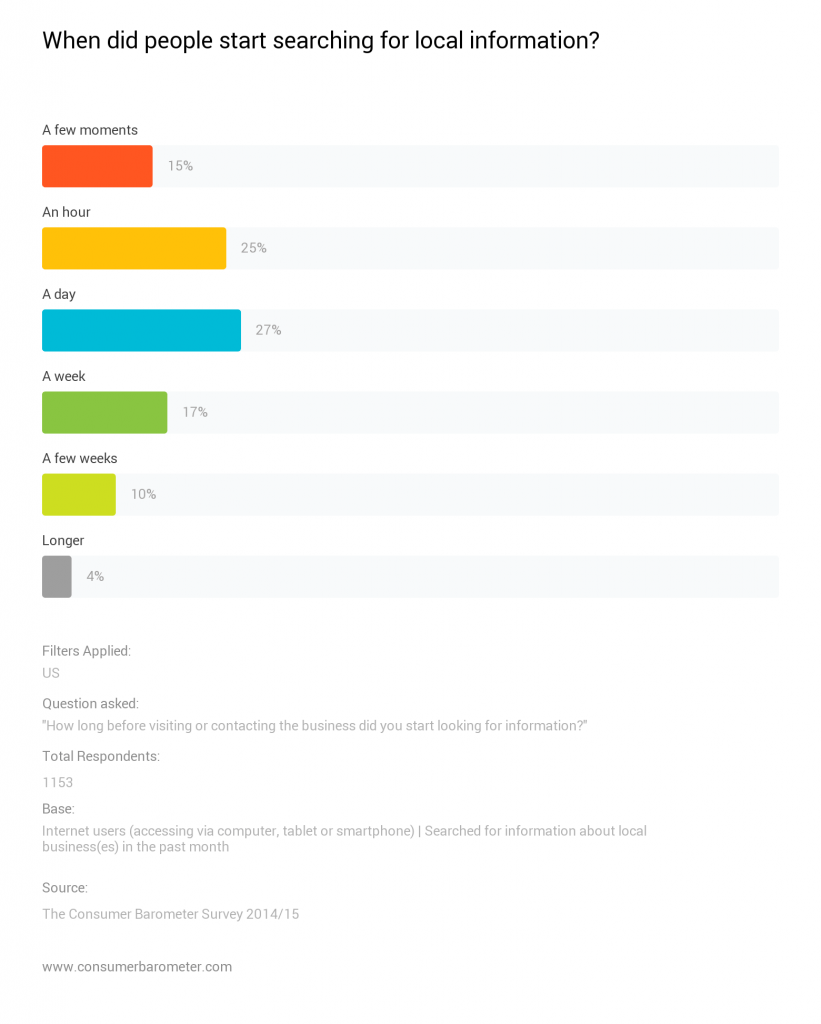 35% of consumers only began their research between moments and hours before a purchase, leaving little time (or reason) for them to look through multiple pages of search results. Customers of local businesses typically do more research in advance: A few moments (-6%), Hours (11%), Days (15%), Weeks (3%), Months (1%). According to Google's Senior Vice President of Ads, Sridhar Ramaswamy, there's been a 10x increase in mobile searches in the past two years for "near me" searches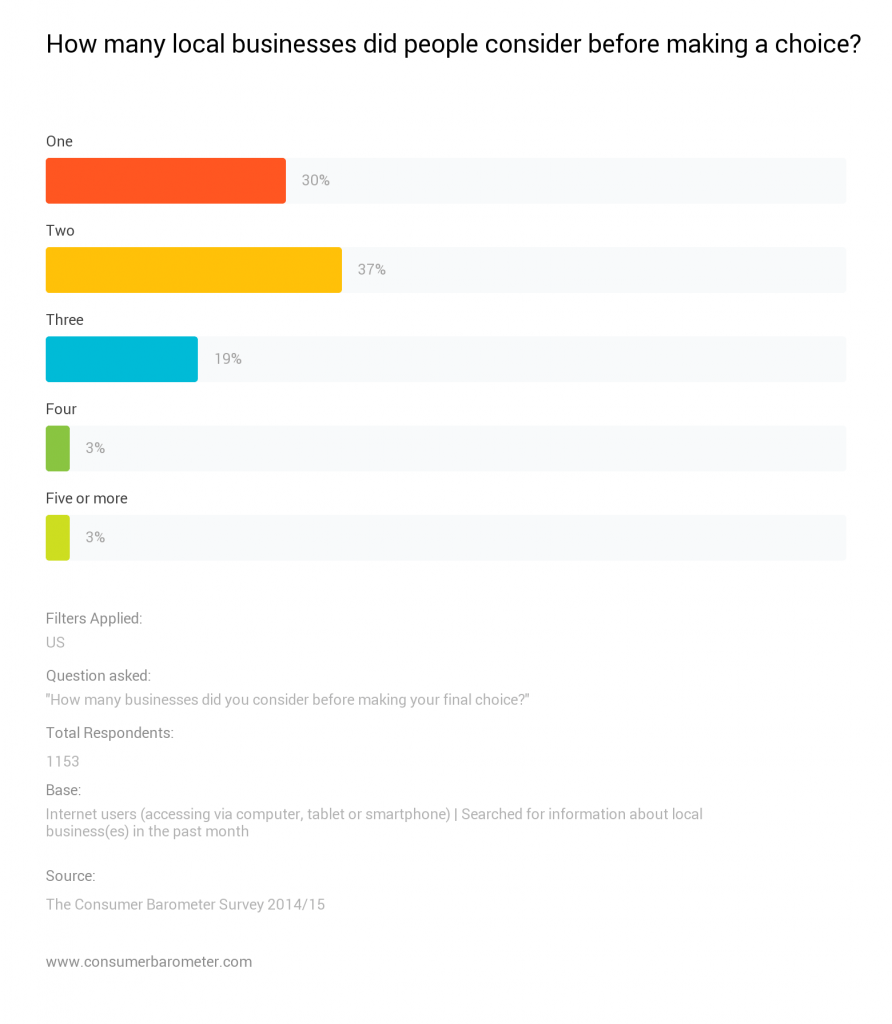 Compared to nationally recognized brands, consumers compared more local brands before purchasing, with most consumers (62%) researching 2 or more brands. Significantly, 30% of respondents reported to only researching one brand before making a purchase locally. Seriously. 37% of consumers only considered 1-2 brands, meaning if you're not listed as the first or second company in your industry there's a significant risk you're missing out on opportunities!
---
Mobile Search
Whether organically or through advertising, more consumers are first learning about your company online. Because 22% of consumers only used a smartphone in their purchase process, Mobile-Optimized websites are now essential. Because Google is dedicated to creating a great experiences for users of their products, Google now penalizes the search rankings of websites that are not considered mobile friendly.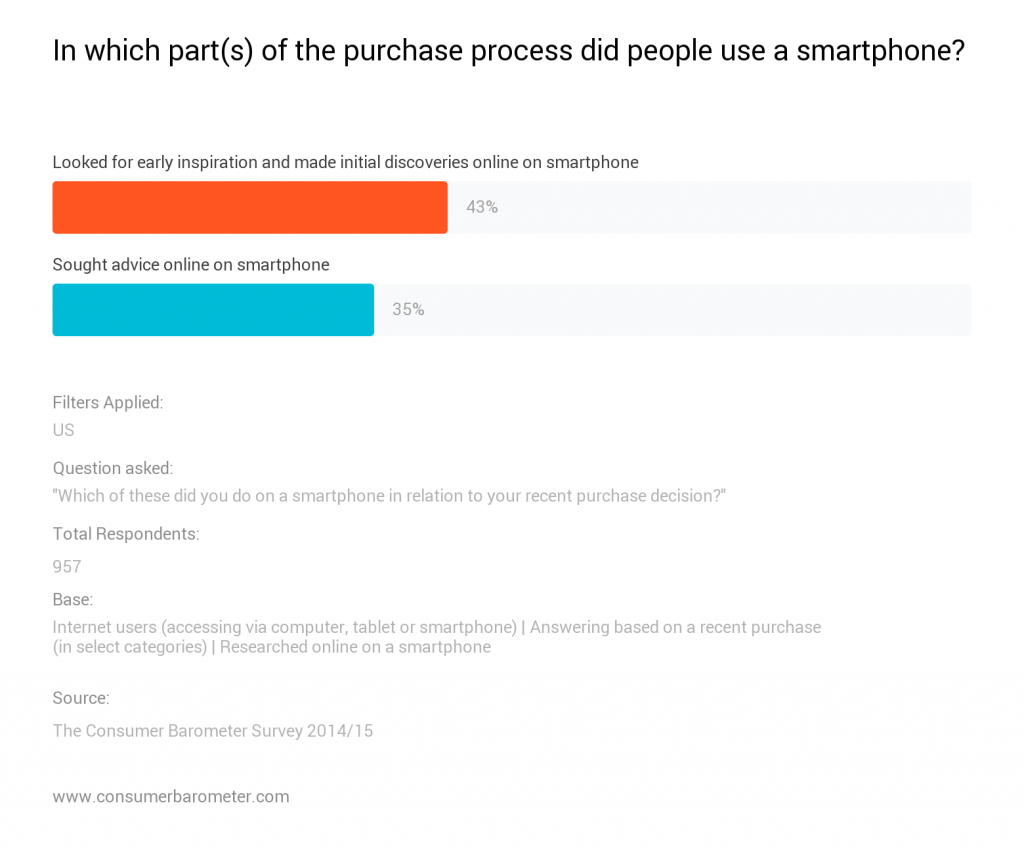 Nearly half of all consumers discovered or researched a product using their smartphone.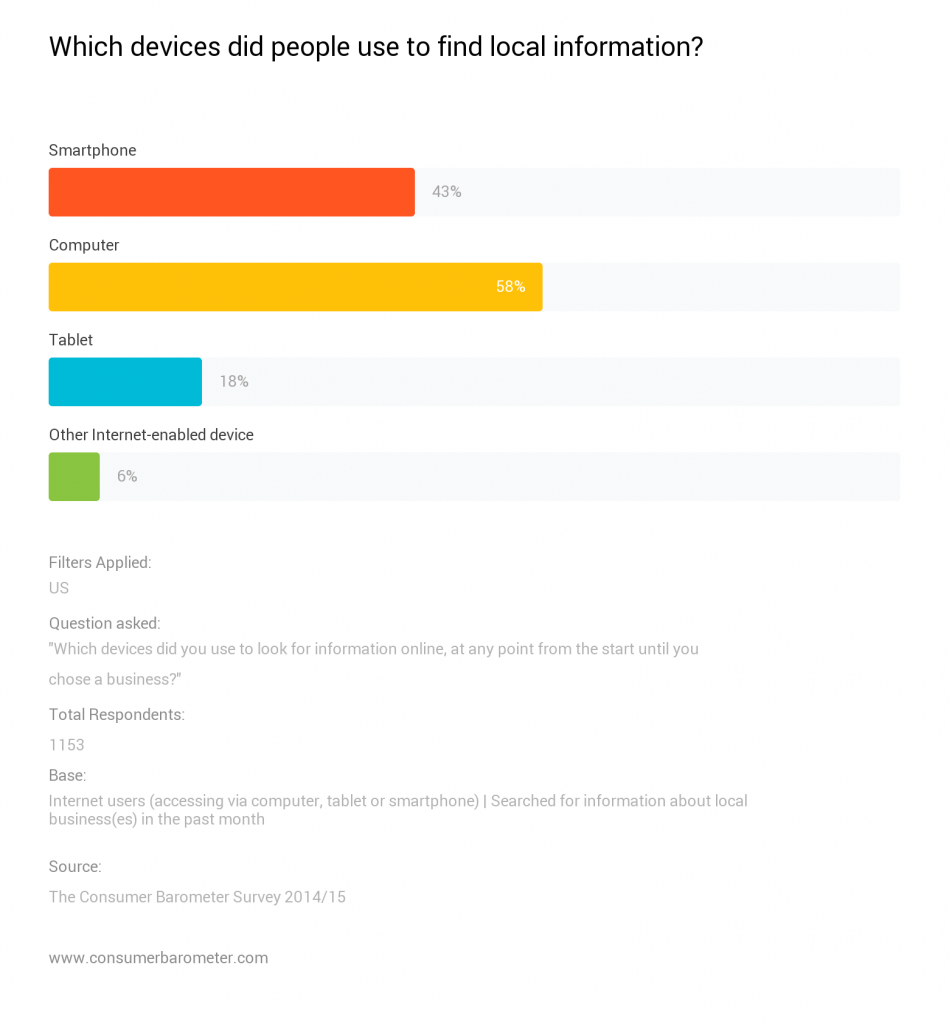 While the desktop version of your website is still clearly important, designing for the needs of both desktop users and mobile users can greatly enhance the experience your customers have with your brands website.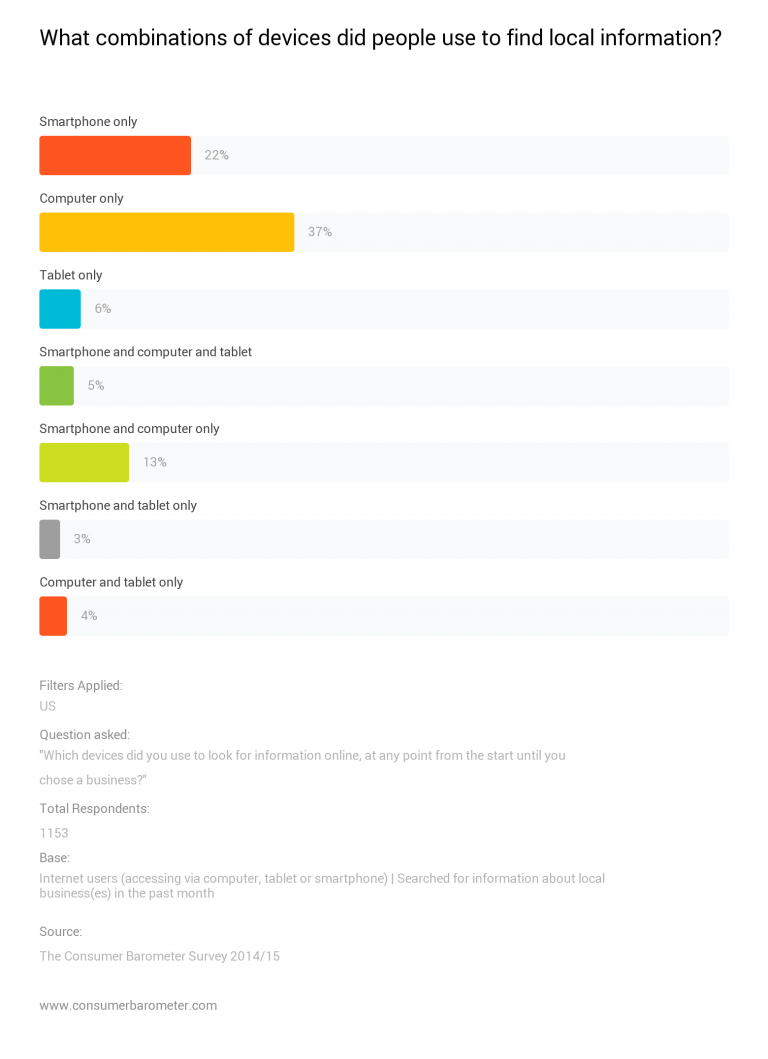 22% of consumers only used a smartphone during their research process. If your website isn't responsive to mobile devices, mobile users may experience a variety of issues when accessing your site such as long load times, broken designs, illegible text, navigation glitches and more.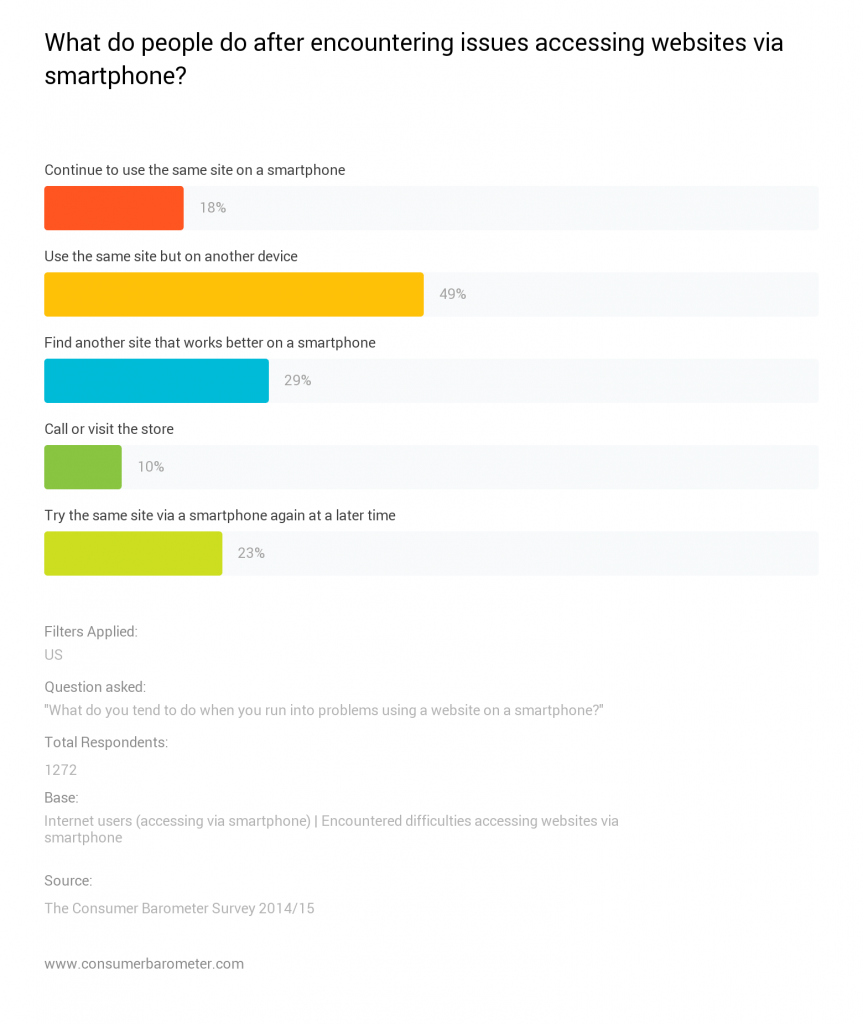 30% of mobile traffic experiencing issues leave immediately for a site that works.
---
Online Video
Updates to your digital marketing strategy: Online Video marketing is a major opportunity for small business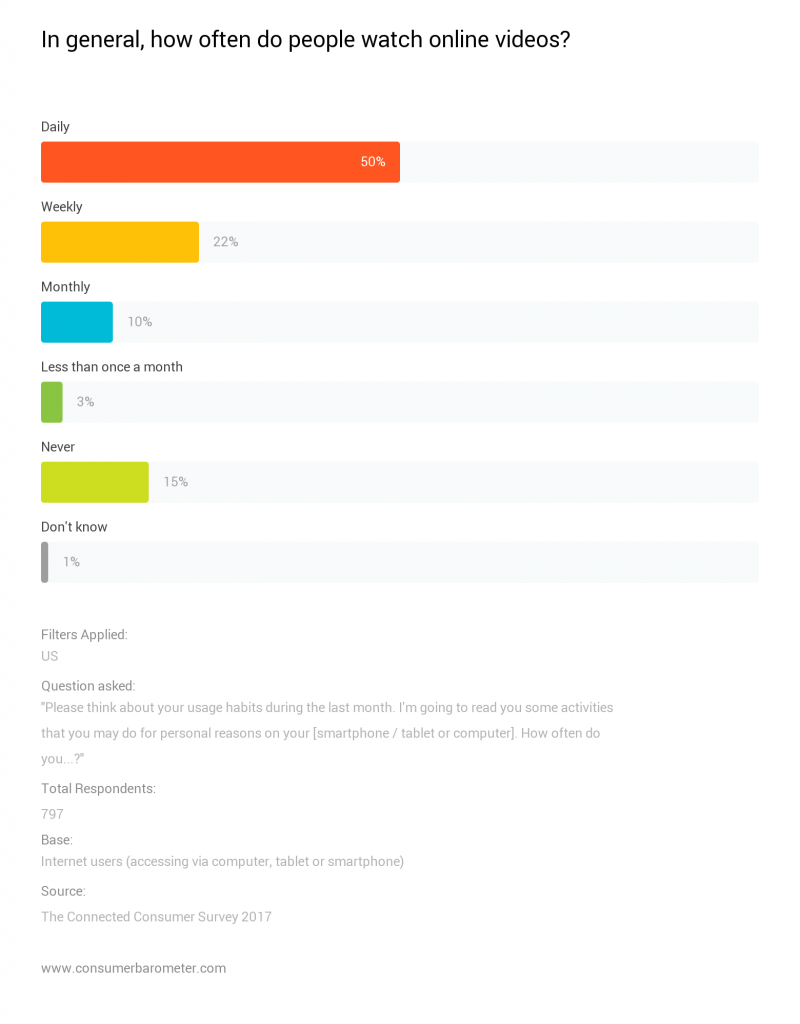 Online video presents a huge video for small businesses. Cheaper than most traditional forms of advertising, the amount of time and attention given to online videos is currently unparalleled by any other channel.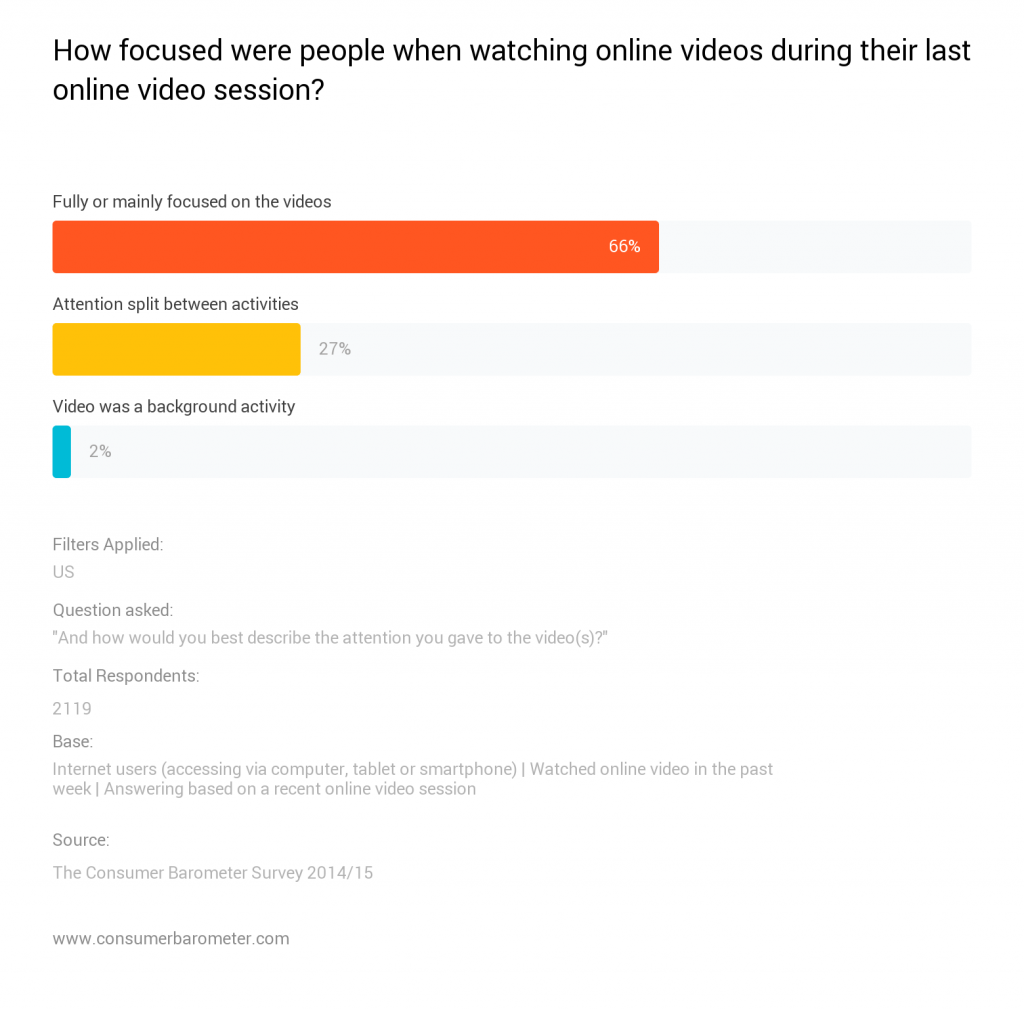 66% of consumers are fully or mainly focused on the video they are watching, greatly decreasing the chances your advertisements go unplayed as background noise.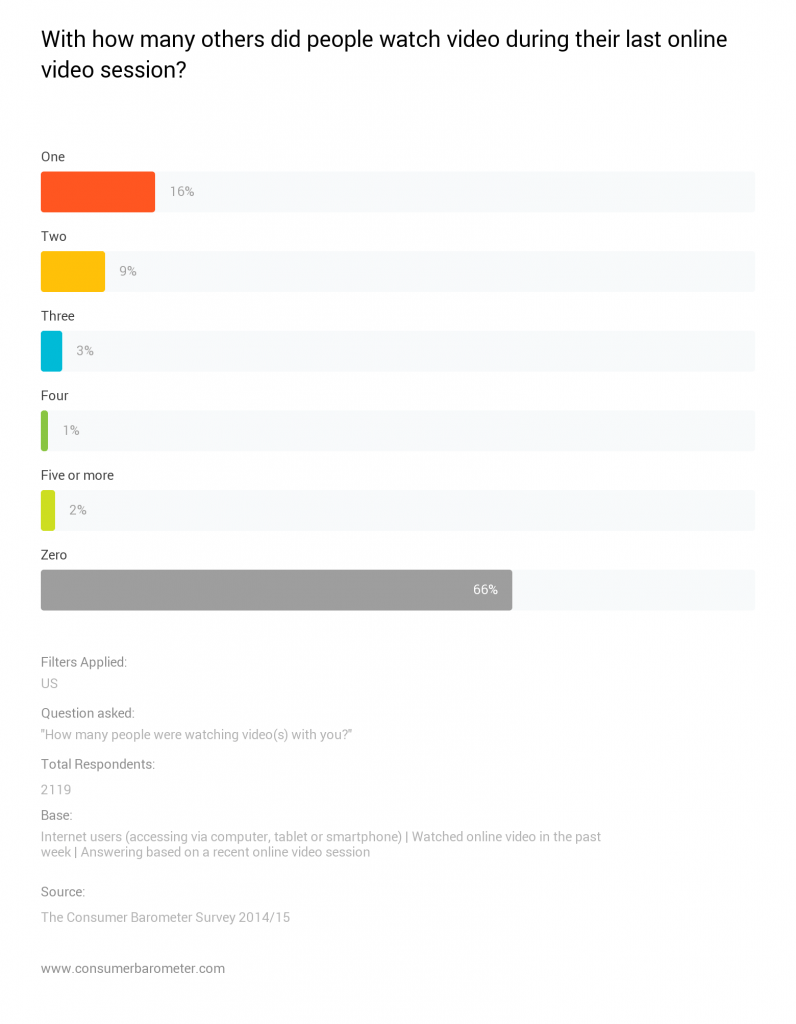 Nearly 2/3 of the time the video is being watched alone, allowing for greater opportunities for personalization and humor. Significantly, the proportion of people watching videos socially has continued to grow.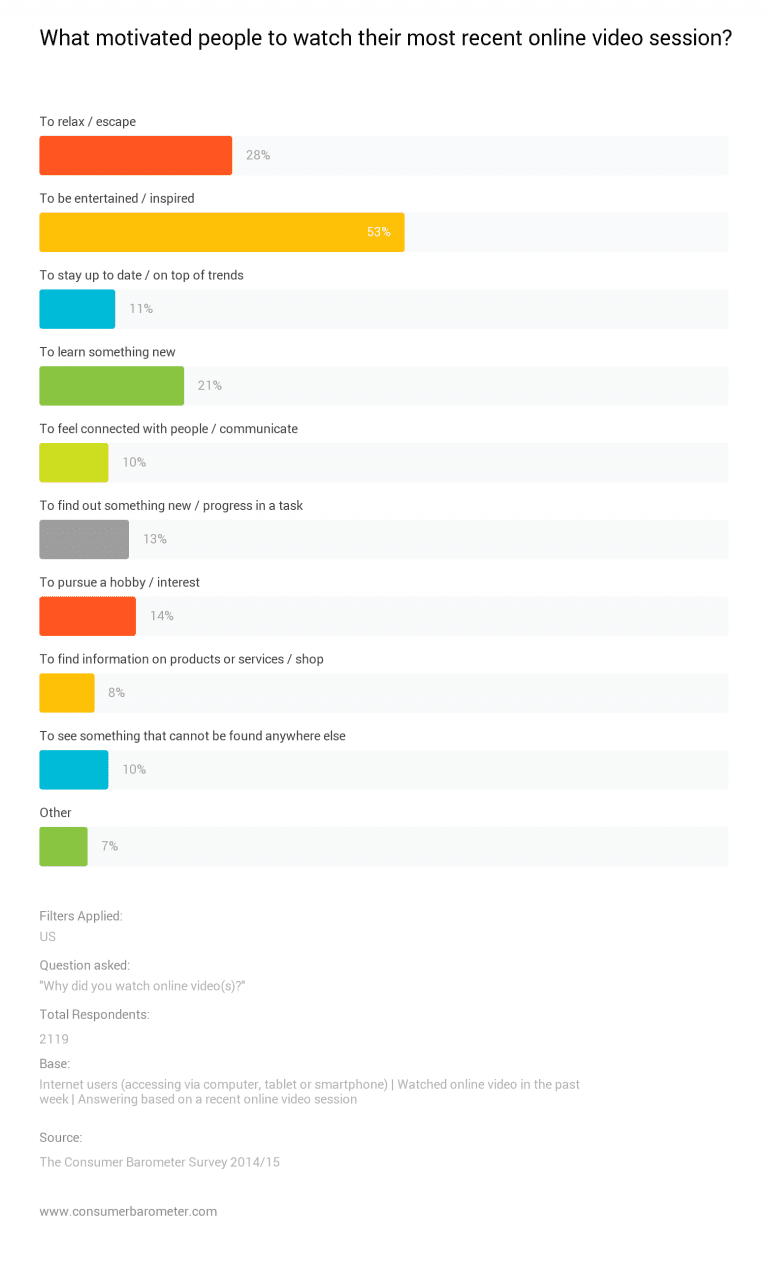 The reasons probably won't surprise you as they share many similarities with the reasons we watch television. The top 3 reasons were to be entertained, to relax, and to learn something new- all three of which effective marketing content can and should accomplish!
Interested in learning more consumer insights? Check out Google's Consumer Barometer