Lost among the technical jargon surrounding SEO, the purpose of a search engine is to successfully find what the user is searching for. While optimizing the code of your website to be crawled effectively by search engines is essential without a doubt, this alone will not increase and maintain your ranks.
Even if your website enjoys a temporary boost in rankings from correcting your outstanding SEO issues if your website creates a bad user experience directly increases your websites bounce rate, decreases the average time spent on your pages, and decreases the average sessions from your website users.
This is extremely important for your ongoing SERP rankings because Google wants to deliver websites in their search results that deliver a positive experience to the searcher, who is then more likely to use google for future searches.
What that means for your business is even if your products and services are exactly what that searcher needs to purchase to solve their problem or pain, if you deliver a bad experience online you are opening the door to your competition to out-compete you in the experiences your customers and prospects have online.
User Experience and SEO
Google's goal is to deliver the best experience to their users, so it makes sense that the experience you deliver to the website visitor's you already have impacts the likelihood that Google will rank you well and "refer" you to future searchers.
Indirect impacts on SEO:
Bounce Rate – 'the percentage of visitors to a particular website who navigate away from the site after viewing only one page". Search Engines like Google look at bounces to determine if the searcher didn't find what they need and turn elsewhere.
Average Time Spent on the Website – "The amount of time visitors have spent on your website." Alongside bounce rate, search engines look at the average time spent on the website, or single page, to determine if the searcher found a satisfactory answer to what they were looking for.
Average number of pages viewed per session – "The average number of pages viewed during a session, or one visit, to your website." If your visitors are visiting multiple pages on your website before leaving, it suggests they find your website engaging and are exploring more of it and are therefore having a good experience.
Returning Users – Google analytics uses a cookie to track the activity of your website visitors. If google detects a visit from a user with this cookie already, it's counted as a Returning User. Returning users indicate to google that your site delivers an experience worth coming back to!
Direct impacts on SEO:
Current Search Engine Result Rankings –The direct result of the factors listed above as indirectly impacting your SEO can be seen in your current search engine result page (SERP) rankings. Regardless of the frequency you publish content or the quantity of backlinks you have, delivering a great user experience can result in your website ranking first.
Competitiveness of improving your rankings –Delivering a bad user experience on your website makes improving, and maintaining the improvement, nearly impossible if you have competitors who do it better. Conversely, if your local competition doesn't understand the importance of your customer's experience online, delivering a great user experience will augment and significantly improve all your search engine optimization efforts.
User Experience and Conversion
A good user experience maximizes the number of visitors your website converts into customers. Delivering a bad user experience results in potential customers leaving because they got frustrated or could fulfill their objective elsewhere more easily. User Experience directly impacts the ability of your digital marketing to convert website visitors into revenue in the following five areas:
Returning Users –Think with Google recently announced their research suggesting that much like a snowflake, every single customer journey is unique. This means some of your potential customers are ready to convert on their first visit to your website, but many others will return many times to a site before making a purchase. Without a seamless user experience on your website, potential customers will fall through the cracks.
Conversion Rate –If potential customers begin falling through the cracks, your conversion rate will begin to suffer. Additionally, user experience can impact your conversion rate at the time of conversion as well. Make sure the conversion experience is as simple and as transparent as your business can offer.
Average Sale –Your potential customer's openness to upsells, and therefore the ticket value of your average sale, is directly impacted by the experience they're having and the time they've already invested. Making it easy, quick, and intuitive to navigate increases your potential customers confidence in your company, and any saved time makes shopping for extras a stress-free activity.
Average Customer Lifespan –The experience your company creates, both online and offline, is one of the biggest factors in how consumers determine the value of a product or service. Companies without good user experiences online create an opportunity for their competitors to create real value for potential customers.
Advocacy Rates –If you've exceeded your customer's expectations from the time they've discovered your company through use, chances are high you've earned a few raving fans! Creating a good user experience increases your customer's confidence in referring your brand by demonstrating your ability to exceed expectations. No one wants to refer someone they care about to a bad experience!

The bottom line? User Experience directly impacts your potential revenue at all stages of your customer's journey. Improving your user's experience increase the return on your investment in all parts of your customer acquisition and revenue generation funnels.
Creating a website that your customers and prospects like to interact with is a virtuous circle. The more time they spend interacting with your site, the more invested they are in your companies messages and products, which increases the likelihood and size of purchase, which further increases your SERP rankings, which leads to more website traffic, which is more likely to convert.
This pattern continues as you reach new markets and out-compete your digital-dinosaur competitors. Ideally, your online experience can set your company so far apart and make things so easy for your customers, that they turn into raving fans, ready to advocate for your business when the opportunity is right.
So what makes a good User Experience?
Here are some of our tips on the UX Checklist we use during our website design and website redesign projects.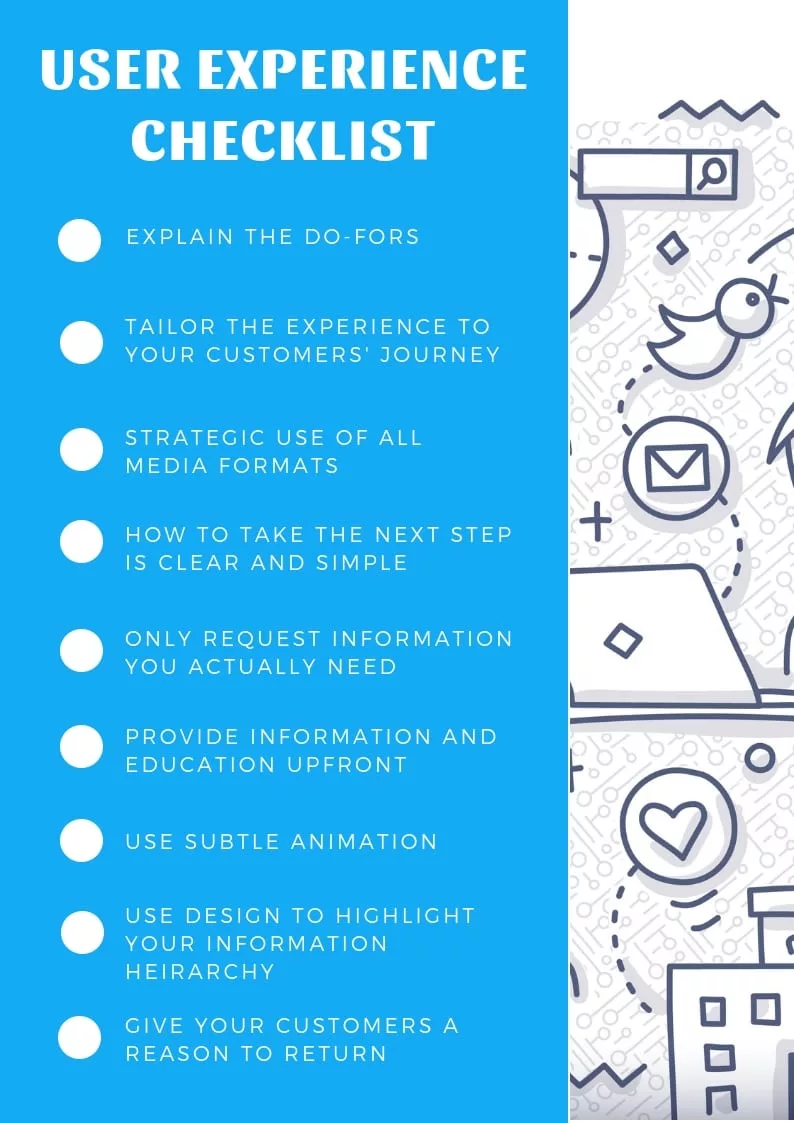 Designing for User Experience Checklist
1. Explain as simply and succinctly as possible to the reader: "What this does for you."
2. Design your customer's journey: How would a prospect or customer at each stage of the customer lifecycle interact with your website? Is the journey cohesive and helpfu
3. Use the right format of media at the right time. Typically videos, animated images, and infographics are more engaging than still images and plain text.
4. Keep conversion within 3 clicks.
5. Only request the information you absolutely need. When they decide they're ready to move forward, it should be as easy for them as possible.
6. Make sure you're being transparent: Are you providing all the information they need to make a decision? Are you being upfront about what a purchase requires from them?
7. Manage expectations: What will be the results? What should they expect next?
8. Use subtle animation to subliminally suggest your business is responsive to their requests.
9. Use a standard design for your information hierarchy to lessen the new user learning curve for your website.
10. Differentiate between your customers and prospects experience with your website by giving your customers a reason to log in.