If you're interested in completing your own audit, follow this 10 step audit process to prioritize your digital marketing efforts.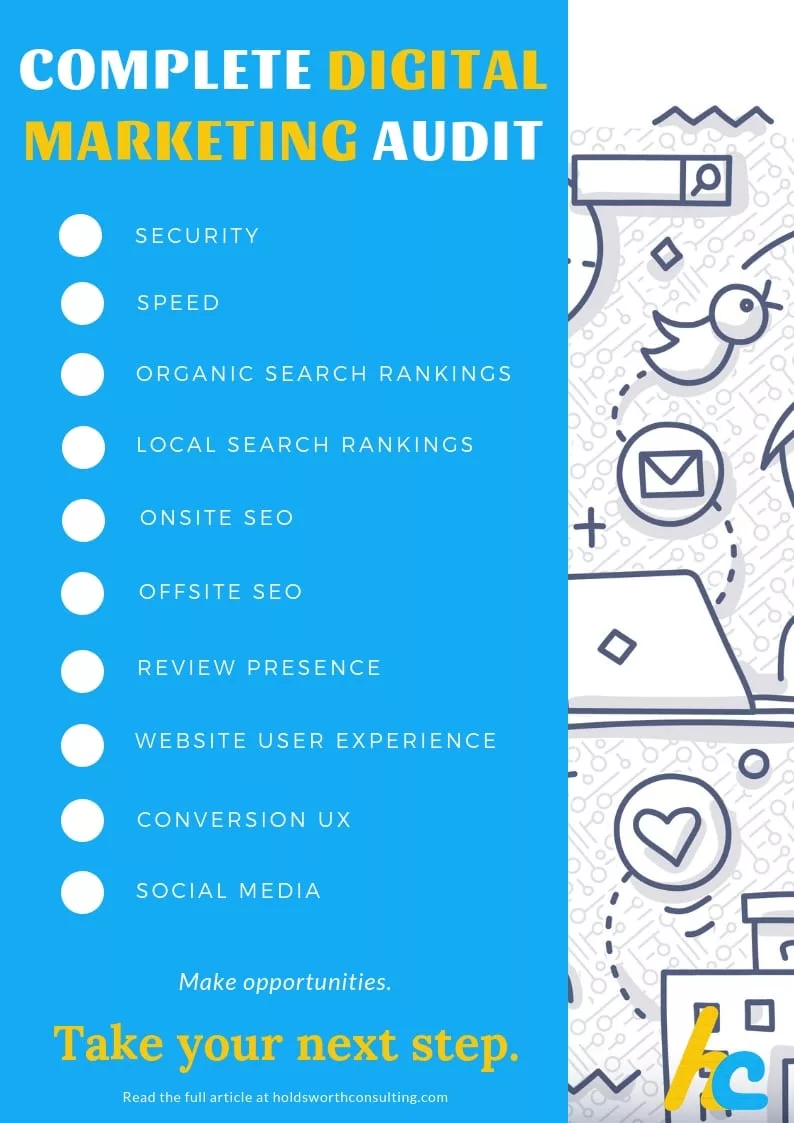 10 Step Digital Marketing Audit
1. Make your website secure
Even if your site is reading HTTPS, you may have unencrypted image files or other issues that are breaking the HTTPS. Utilize this tool to check if your HTTPS set up is complete and functioning correctly: https://www.digicert.com/help/

It's worth noting, if you handle large volumes of sensitive customer data, there are different security certificates available that offer differing levels of insurance in the rare occurrence your data is breached. While you'll have to determine which certificate makes the most sense for your business, most free certificates offer no insurance but still greatly reduce the risk of a data breach.
Is your website's identity verified? This is particularly important if you use an email address @yourdomain.com. Without correct SPF, MX, and DMARC records, your company is at risk of being hacked, specifically through a Phishing scheme. While spam filters do their best to identify spam on the receiving end, adding correct records is a more consistent and reliable way to increase your email deliverability by verifying your identity as the sender. Check out any problems with your mail server, black lists, web server, and DNS at https://mxtoolbox.com/MXLookup.aspx
2. Make your website lightning fast
The speed of your website directly impacts the amount of people who "bounce" from your website as well as your search engine result rankings. How fast does your website load? When is the time to first byte, or the first visual indication that loading is working? Standardize your results using a tool like Pingdom or Gtmetrix.
3. Check your Organic Search Rankings
How well do you rank in Google's organic search results for the highest volume keywords demonstrating purchase-intent for your industry? How much competition do you face? Because Google now personalizes the results of a search based on the users location, we like the Tool BrightLocal to keep track of how your company is ranking in the specific areas you operate.
4. Check your Local Search Rankings
How well are you ranking in Google's Local Results. While they don't appear for every search, most intent-demonstrating searches now feature local search results, and the amount of attention local results get in terms of click through rate get equals organic results in many cases. Check out how you're doing in the local rankings by searching the "Google Maps" search engine on BrightLocal
5. Audit your Onsite SEO
How well have you optimized the technical aspects of your website for search engines? How well have you implemented a keyword strategy and is it a strong strategy to pursue? Have you set up internal linking as well as canonical tags where appropriate? Is your website mobile responsive? Neil Patel's done a great job of making the results easy to understand using his SEO Analyzer.
6. Audit your Offsite SEO
In a simple sense, your "Domain Authority" can be thought of as how Google determines "how popular your website is around the internet", and ultimately, if you are a trustworthy website to recommend to Google searchers. How well is your business listed with data aggregators and online business directories? How many unique websites link to your website, how many links are there, and are those links contributing positively or negatively to your domain's authority with search engines? Does the holistic profile of your anchor text (the text surrounding a link) match any known link spam profiles? Check out who's linking to your website using Moz's Link Explorer.
7. Analyze how your online reviews compare to your competitors
Online reviews are important. Customers use reviews as social proof to determine if people like them have had success with your products, and Search Engines use reviews as one factor to determine your relevancy compared to your competitors. How does your business stack up compared to your local competition on Yelp, Google Reviews, and Facebook Reviews? We've put together our own Yelp Review Analyzer, now available as a Python script on our Github. Not comfortable using Python? Not to worry, we're working on a website version that will be released in the future!
8. Perform Usability Testing (Website UX)
What type of impression does your company create when you're being discovered? How well do you convey your value proposition? How easy is it to connect with your brand? Where can I find more information and resources if I want them?
Homepage

Above the fold: can I gain an understanding in 5 seconds or less what your company does? The rest of the page: Can I understand what categories of products and services you offer? Can I understand your company's unique value propositions?

Contact Details

How do I get in contact with you if I'm ready to move forward?

Navigation

How easy and intuitive is it to find my way around the site? Am I taken to the place I think I'm going or am I constantly in for a surprise?

Products and Services Details

Can I find information about the specifics of each product or service? What does it involve? What will it cost? What other information is useful for me to know or have access to?

About you

What makes your company better and different than your competitors?
9. Perform Usability Testing (Conversion UX)
When a potential customer is aware of your company, brand, services, and products, how well does your website convert them into customers? The key to conversion is simplicity and transparency, making all the following elements essential to maximizing your conversion rates:
Easy to understand Pricing Structure

How much will it cost me? Are there different tiers available? What makes the most sense for my business? How does this pricing compare to my alternatives? Without pricing information, it's very difficult to create a budget or properly allocate resources. When potential customers are forced to decide whether they want to invest their time into picking up the phone to get pricing, many decide it's a risk not worth their time if they are already satisfied with the pricing from one of your competitors.

Clear customer obligations

What are they signing up for? How long are they signing up for? What's required of them? Is there a possibility of additional fees or charges? Eliminate these questions for your potential customers to give them a clear understanding of what your services entail.

An exit sign

How do I cancel service? What do I do if I'm unhappy with a product and want a refund? Who do I contact if I'm having issues? Exit signs take many shapes and sizes. While refund policies make the most sense for Ecommerce websites, all businesses should offer a clear description of what the customer should do, and what will happen, if they're unsatisfied or choose to stop doing business with you company. Most businesses can take advantage of Guarantees, while others can offer clear customer support and an obligation to make it right. Make sure your email lists are opt-in only. If you're charging a subscription or monthly service, make it obvious where a potential customer would go on your website if they wanted to cancel service.

A meaningful next step

On ecommerce websites this is obvious: a shopping cart and checkout process. However with many service based businesses, the "next step" offered is typically designed with the businesses owner or operations in mind, rather than your customers preferences. Make sure the "next step" to getting started with your business advances the process and saves the customer as much time as possible. Enhance your customer's experience even more by offering a variety of channels (phone, website, calendars, etc.) to cater to the wide variety of customer preferences. Maximize your conversions by utilizing Livechat or Chatbots to answer questions along the way. Your ultimate goal is to make it as easy as possible for a potential customer to get as far as they want in their customer journey. Some examples include:

If you have a standard pricing structure for your services and you're appointment based, offer an online scheduling feature for your customers to book their service. Online calendars automatically update with your availability, allowing the customer to book an available time slot of their choosing.
Is your pricing customized for each individual job? Is your pricing structure based on the work (not the client)? An online quote calculator saves you and your customers time by providing a quote based on the specific nature and scope of the job.
Is you pricing customized based on the characteristics of the customer? An online quote calculator is a great option for these situations as well.
10. Normalize your Social Media engagement data
How well does your company connect with your customers? Social media can be a great tool for reaching new audiences, but organic social media is most effective at creating new referrals from existing customers. How much of your customer base is connected with you, engaged with you, and referring you to their own networks are all important signals in determining if social media is working for your company or against it. To find this out, simply look at your total number of customers and your social media statistics over the past quarter. Compare these "normalized" social media statistics with the normalized statistics of your industry to see how you compare.
Following Customers Ratio: [Followers / Total Customers]
Engaged Customers Ratio: [Engagement (likes, hearts, +1s, etc.) / Total Customers]
Referring Customers Ratio: [Shares / Total Customers]
---
Why we ask about your competitors:
We'll be able to tell who your biggest competition online is, but it's difficult for us to know exactly where your potential customers end up. By letting us know who you most frequently directly compete with, we'll perform this 10 step audit on their websites as well. This allows us to craft a strategy customized to your goals while positioning your company to deliver a better customer experience than your competitors. This is important because no two companies digital marketing strategies are the same. The current rankings and search engine optimization efforts of your competitors are the most important factor in determining the amount of competition you face online.
---
What about PPC?
We think of pay per click advertising as a fantastic way to bring in new leads in the short-term, provided you've already optimized the user and conversion experience on your website. Without a strong way to convert the traffic, you're essentially paying for people to look at your website and leave! Our most important cautionary warning regarding pay per click marketing is that there are little ongoing effects. When you stop paying for the ad campaign, the "faucet" pouring new leads into your business is shut off. With the cost of pay per click ads rising, there are increasingly better long-term investments for your marketing budget. Pay per click ads are most effective when combined with an search engine optimization strategy to drive traffic while the effects of SEO build.
If you're currently running a PPC campaign but not getting the results you'd like, send us an email and we'll look at your actual campaign data. We'll send you instructions on how to let us view your ad data after you reach out!